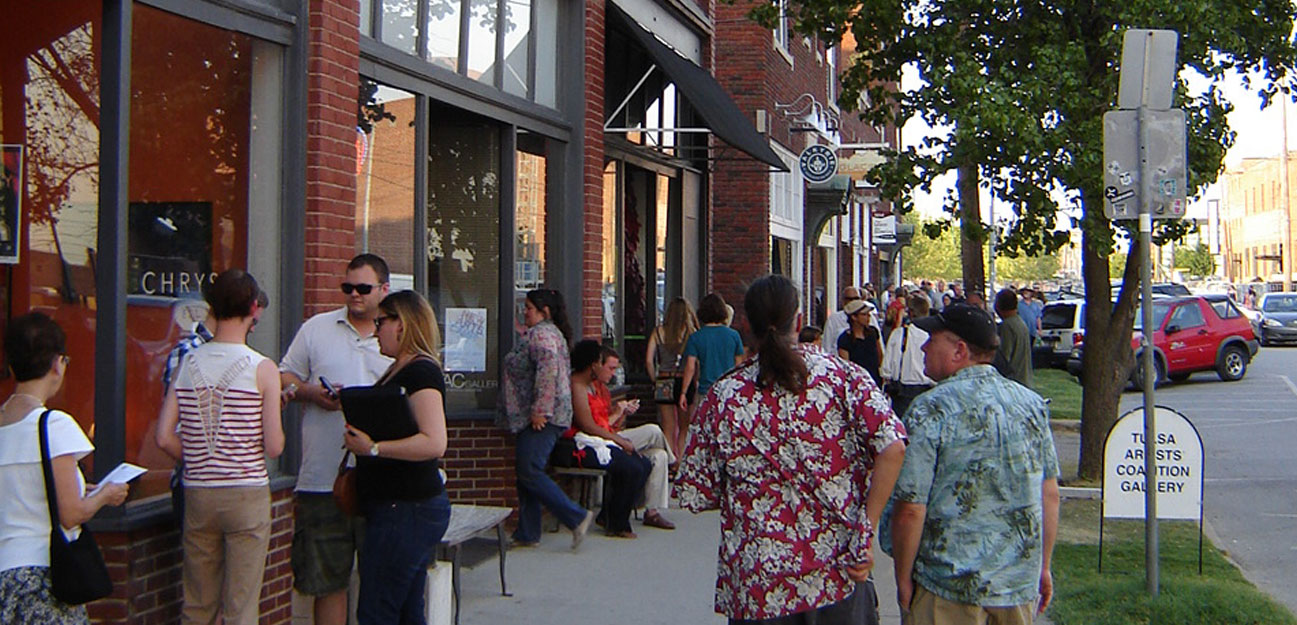 Tulsa Arts District
Certified Cultural District
Location: North of downtown Tulsa (Mathew B. Brady St. and Boston Ave.)
Original Certification: October 2015
Website: www.thetulsaartsdistrict.org

"Arrive early and stay late" is the motto of the Tulsa Arts District, an eclectic cultural center located in one of Tulsa's most historic areas. The district's studios, galleries, and acclaimed museums offer a variety of unique programming opportunities year-round. The Hardesty Arts Center, home to the Arts & Humanities Council of Tulsa, features exhibitions, artist studios, workshops and more. Guthrie Green, an urban park in the heart of the district, features performances and festivals. Visitors to the district can take a class at the Tulsa Glassblowing School or stop by the Philbrook Downtown, a satellite location of the Philbrook Museum of Art featuring displays of Modern, contemporary, and Native American art. Guests can also explore the legacy of one of America's most influential folk musicians at the Woody Guthrie Center, and view contemporary works of art at Living Arts of Tulsa. Venues like the Brady Theater and Cain's Ballroom are local icons, while a number of unique bars and restaurants offer tastes of the city.
The Tulsa Arts District Business Association, a coalition of local business owners, oversees the development and promotion of the area. The association's signature event is the monthly First Friday Art Crawl during which galleries, studios, and museums open their doors for the evening. The event draws hundreds and sometimes thousands of attendees to enjoy visual art, performances, and kid-friendly exhibitions. As the revitalization of downtown Tulsa continues, the Brady Arts District stands out as a cultural haven for the community.
Learn more about the Tulsa Arts District.
Certified Cultural Districts
Learn more about each Oklahoma Arts Council Certified Cultural District below:
Cultural District Certification
NOTE: Cultural District Certification is currently inactive due to budget cuts.
Oklahoma districts that have applied and met the requirements of the Cultural District Certification program may be designated as an Oklahoma Arts Council Certified Cultural District. Program requirements include a minimum three-year history of cultural programming, designated boundaries, a wide-range of public and private support, strong collaborations with arts and non-arts organizations and individual artists, a diverse oversight committee, and support for a district coordinator.
Learn more about the Cultural District Certification program.
What is a cultural district?
A cultural district is a mixed-use area of a community in which a high concentration of arts and cultural facilities or activities serves as the anchor of attraction. Cultural districts can be found in communities of all sizes - rural and urban. Ideally, a district reflects its community's unique built environment and history, showcases the region's artists and cultural traditions, and increases social engagement.
Learn more about the Oklahoma Arts Council's Cultural District Initiative.
Questions?
For more information contact our Community Arts Director.