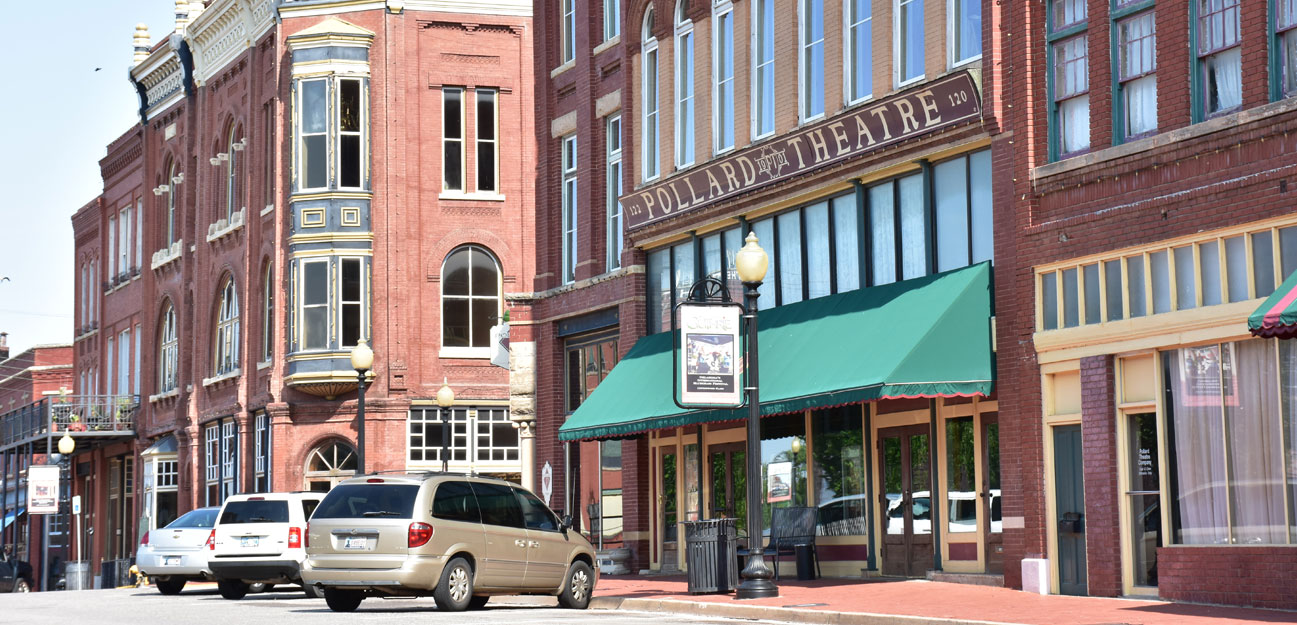 Guthrie Cultural Arts District
Certified Cultural District
Location: Downtown Guthrie
Original Certification: October 2015
Website:www.theartsinguthrie.org

Characterized by a distinctive history and a concentration of late-19th century architecture, downtown Guthrie provides an ideal backdrop for a thriving cultural district. With a dynamic music scene, Guthrie's cultural arts district offers numerous events. Outdoor block parties incorporate live performances, and jam sessions are staples at local music venues. Major annual festivals include the Oklahoma International Bluegrass Festival and Guthrie Escape. Anchoring institutions for the district include The Pollard Theatre and the Double Stop Fiddle Shop. The theatre presents up to six major shows each year, including "A Territorial Christmas Carol" – a version of the Charles Dickens stage classic adapted to a theme of Oklahoma history. The fiddle shop, operated by renowned fiddler Byron Berline, sells stringed instruments and presents a slate of live shows in its music hall. Hands-on visual art opportunities are available through a diverse selection of programming offered by local galleries. Opportunities range from glassblowing lessons to jewelry-making courses. Workshops for area youth are available during the Guthrie Fine Arts Camp.
District activities are facilitated by The Arts in Guthrie (TAG), a 501(c)3 nonprofit organization dedicated to establishing Guthrie's downtown as a center of arts and culture. Founded during the Land Run of 1889, Guthrie's history is deeply ingrained in the community. Drawing from its roots as the territorial capital of Oklahoma and the capital of the state in its formative years, the downtown area has evolved into a network of arts-based businesses, venues, galleries, festivals, and more.
Learn more about the Guthrie Cultural Arts District.
Certified Cultural Districts
Learn more about each Oklahoma Arts Council Certified Cultural District below:
Cultural District Certification
NOTE: Cultural District Certification is currently inactive due to budget cuts.
Oklahoma districts that have applied and met the requirements of the Cultural District Certification program may be designated as an Oklahoma Arts Council Certified Cultural District. Program requirements include a minimum three-year history of cultural programming, designated boundaries, a wide-range of public and private support, strong collaborations with arts and non-arts organizations and individual artists, a diverse oversight committee, and support for a district coordinator.
Learn more about the Cultural District Certification program.
What is a cultural district?
A cultural district is a mixed-use area of a community in which a high concentration of arts and cultural facilities or activities serves as the anchor of attraction. Cultural districts can be found in communities of all sizes - rural and urban. Ideally, a district reflects its community's unique built environment and history, showcases the region's artists and cultural traditions, and increases social engagement.
Learn more about the Oklahoma Arts Council's Cultural District Initiative.
Questions?
For more information contact our Community Arts Director.