Teaching with Capitol Art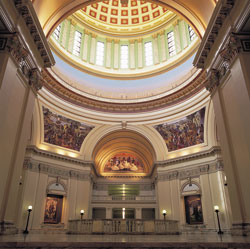 From permanent sculptures, murals and portraits located throughout the historic building, to works by notable Oklahoma artists in a museum-quality gallery, the Oklahoma state Capitol is home to two art collections that provide a unique way to engage students.

Developed by the Oklahoma Arts Council, Teaching with Capitol Art online resources offer educators dynamic tools for integrating art into their lessons. Select a subject below for educational activities and resources related to the artwork of the Oklahoma state Capitol.

Emphasizing Oklahoma history, our social studies resources include topics like the Oklahoma Land Run, the Dust Bowl, African-American History in Oklahoma, and Oklahoma Geography. Click here for social studies resources.

Visual art resources provide tools for teaching about creative thought, symbolism, drawing, painting, Mexican Art History and more. Click here for visual art resources.