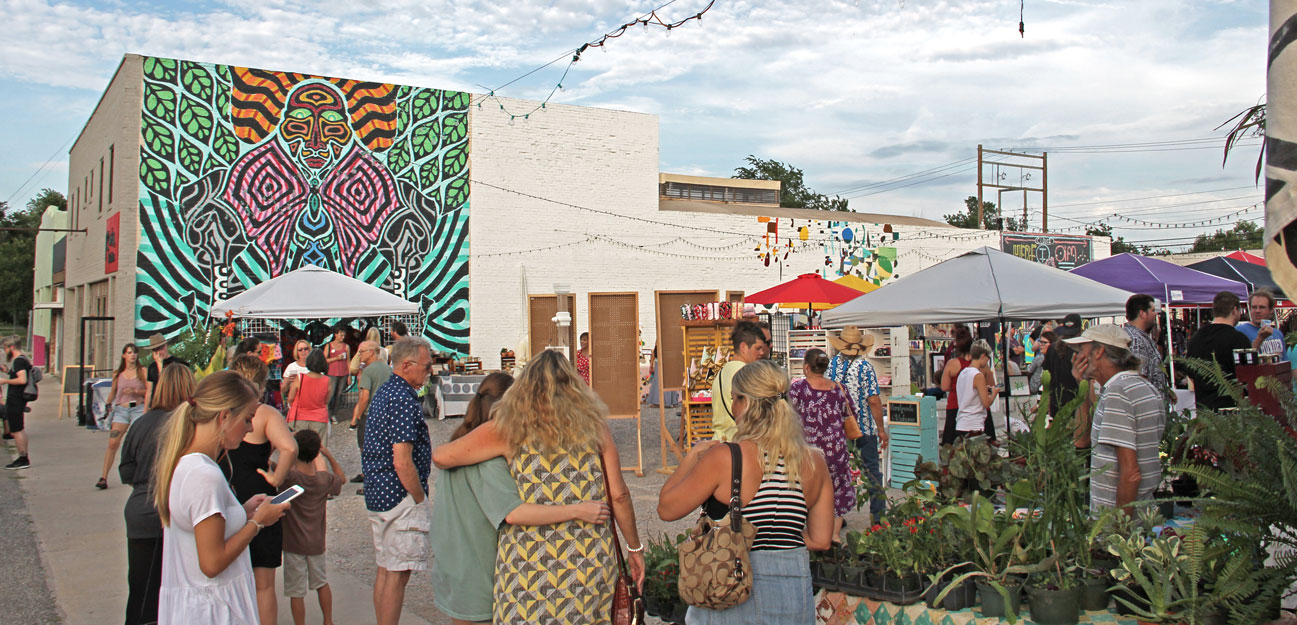 Norman's Walker Arts District
Certified Cultural District
Location: Downtown Norman
Original Certification: October 2015
Website: www.normanarts.org

Featuring a diverse mix of art galleries, performance spaces, business offices, retail establishments, local restaurants, and more, Norman's Walker Arts District perfectly captures the lively spirit of a college town while staying true to its historic roots. The district is home to a number of events throughout the year, lending to Norman's nickname as the "City of Festivals." The largest of its cultural events, the Norman Music Festival draws up to 80,000 people. Jazz in June, Groovefest, and the Mayfair Arts Festival are long-established traditions held annually at Andrews Park in the district. A more recent event, Fall Fest was launched in 2013. The 2nd Friday Norman Art Walk, held year-round, brings together thousands from the community on a monthly basis. Live performances on the stage of The Sooner Theatre contrast a more intimate setting for music and poetry readings at The Depot. Gallery space at MAINSITE, home of the Norman Arts Council, and exhibitions at The Depot offer opportunities to view works by local, regional, national and international artists. Public art ranging from large-scale murals to artist-designed bike racks actively engage passers-by while a 9-foot bronze sculpture of James Garner pays tribute to the actor's legacy in his birthplace.
District activities are coordinated by the Norman Arts Council (NAC). Founded in 1976, the NAC sponsors festivals, programs, workshops, and educational activities in the area. It has helped launch many of the district's popular programs. Centered on Main Street between University Boulevard and Ponca Avenue, the district has been transformed in to the heart of the community, enjoyed by residents, students, and visitors alike.
Learn more about Norman's Walker Arts District.
Certified Cultural Districts
Learn more about each Oklahoma Arts Council Certified Cultural District below:
Cultural District Certification
NOTE: Cultural District Certification is currently inactive due to budget cuts.
Oklahoma districts that have applied and met the requirements of the Cultural District Certification program may be designated as an Oklahoma Arts Council Certified Cultural District. Program requirements include a minimum three-year history of cultural programming, designated boundaries, a wide-range of public and private support, strong collaborations with arts and non-arts organizations and individual artists, a diverse oversight committee, and support for a district coordinator.
Learn more about the Cultural District Certification program.
What is a cultural district?
A cultural district is a mixed-use area of a community in which a high concentration of arts and cultural facilities or activities serves as the anchor of attraction. Cultural districts can be found in communities of all sizes - rural and urban. Ideally, a district reflects its community's unique built environment and history, showcases the region's artists and cultural traditions, and increases social engagement.
Learn more about the Oklahoma Arts Council's Cultural District Initiative.
Questions?
For more information contact our Community Arts Director.