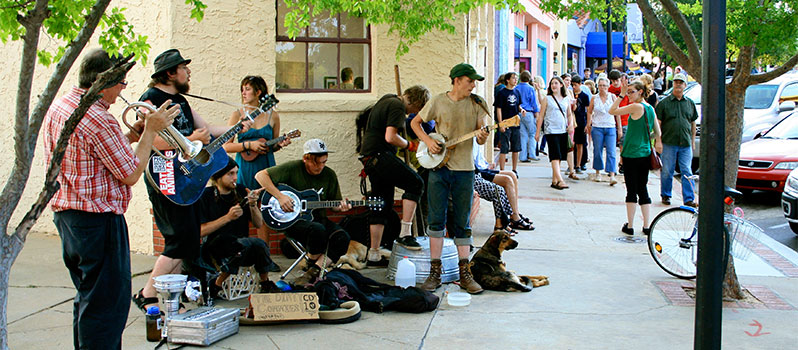 Cultural District Development Program
A component of the Oklahoma Cultural District Initiative, the Cultural District Development Program provides grant funding, guidance, and professional consultation to assist in creating cultural districts in Oklahoma communities.
Learn more about the program's pilot community, Alva, Oklahoma
What is a cultural district?
A cultural district is a mixed-use area of a community in which a high concentration of arts and cultural facilities or activities serves as the anchor of attraction. Cultural districts can be found in communities of all sizes - rural and urban. Ideally, a district reflects its community's unique built environment and history, showcases the region's artists and cultural traditions, and increases social engagement.
Cultural districts act as an agent for positive growth in a community by:
Incentivizing new and relocating businesses

Stimulating commerce

Boosting tourism

Fostering civic pride

Enhancing quality of life

Increasing property values

Attracting a well-educated and creative workforce


Grants
Letter of Intent Due
December 1, 2020
Notification to Apply
Late December 2020
Applications Open
February 15, 2021
Applications Close
April 15, 2021
Notification of Awards
July 2021
Final Report Due
July 30, 2022
Grant Amount
Grants of up to $7,500 per year are available to successful applicants. Grants require a 1:1 match (50 percent of the match may be in-kind support. Matching funds may not come from another Oklahoma Arts Council grant award.). Applicants may participate in the program for up to five consecutive or non-consecutive years and receive a maximum of $25,000 in funding. All grant awards are paid by reimbursement after the grant period and submission of a final report and support material.
Grant Period
July 1, 2021 to June 30, 2022
Oklahoma Arts Council FY2022
What Expenses Are Eligible?
Funding from Oklahoma Arts Council may be used toward the following eligible expenses:
Fees for professional consultants
Hiring a district coordinator who will oversee operations during the development phase
Marketing and promotion of district activities and events
Other eligible consumable expenses (Please contact our Community Arts Director for more information)
Ineligible Expenses
Grant funds cannot be used for capital improvements, purchase of permanent equipment, creation of new artwork, non-arts related expenses, activities with a religious purpose, food/drink or prizes, or duties/expenses related to fundraising or lobbying.
Application Process
Interested applicants new to the Cultural District Development program must submit a letter of intent by December 1, 2020. Download a sample letter of intent. Successful applicants will be notified of eligibility to apply in late December 2020. Returning applicants must notify Oklahoma Arts Council of intent to continue the program by December 1, 2020.
Organizations receiving a notification to apply should submit a complete Cultural District Development Grant application through the Oklahoma Arts Council grant system between February 15, 2021 to April 15, 2021.

Community Committee
Partnerships with community stakeholders are required for participation in the Cultural District Development Program. Participating communities will be required to create a diverse committee of community leaders and members. The committee should include, but not be limited to, individuals from the following areas:
Artists

Arts organizations

City, county or tribal governments

Educational institutions (primary, secondary and higher education)

Professional groups

Culturally specific, social service, and religious organizations

Community Coordinator
Each community will designate a Community Coordinator whose duties will include, but not be limited to the following:
Act as liaison for the community and Oklahoma Arts Council

Develop and lead the community committee

Act as secretary for the community committee or designate a secretary to keep minutes of meetings

Conduct cultural asset assessment

Contract and work with consultants on benchmarks and annual goals

Complete annual evaluations and reports

Other duties necessary to make the program a success


Consultants
The community committee is responsible for contracting with professional consultants who have a demonstrated expertise in cultural planning and community design. Selection of consultants is subject to approval by the Oklahoma Arts Council. The Oklahoma Arts Council can provide consultant referrals upon request. Consultation fees may need to cover travel, lodging and per diem.
Oklahoma Arts Council staff provides overall guidance on each project and is available for consultations as needed.
Measuring Success
Benchmarks are established during the planning process involving the community committee, professional consultants and Oklahoma Arts Council. In assessing benchmarks, communities will submit annual reports and Oklahoma Arts Council staff will conduct site visits.
Goals may include:
Incorporate the arts into local public policy

Initiate new collaborative arts-based events

Develop financial incentives for artists and arts organizations

Establish new partnerships with local businesses, nonprofit organizations, city government and others

Promote arts related businesses and attract tourists

Stimulate an understanding of the value of the arts in economic development

Increase access to the arts to promote a creative workforce and arts education

Generate tax revenue

Improve community aesthetics


Advisory Committee
Review of applications, annual reports and other program requirements will be provided by the Oklahoma Cultural District Initiative Advisory Committee.
The committee may consist of members of the following:
Oklahoma Arts Council staff

Oklahoma State Historic Preservation Office

Oklahoma's Main Street Program/Department of Commerce

Oklahoma Tourism & Recreation Department

Preservation Oklahoma

Professionals with expertise in community planning and development
Applications must demonstrate support from cultural organizations, community stakeholders including city/county officials, businesses, artists and educators. Grants are awarded based on community readiness and capacity. Grant amounts are subject to availability of Oklahoma Arts Council funding.
Grantee organizations must agree to all Oklahoma Arts Council legal assurances and grant contract terms. Awarded funds will be distributed to the applicant organization as a single reimbursement payment after the grant period. 100 percent of awarded Oklahoma Cultural District Development Grant funds must be used for expenses incurred between July 1, 2021 to June 30, 2022.

Termination of Program or Changes
The Cultural District Development Program is dependent on the availability of funds. The Oklahoma Arts Council reserves the right to decline funding if benchmarks are not met. Any changes to a proposed Cultural District Development Program should be sent to the Oklahoma Arts Council Grants Director in writing prior to the change taking place.
Questions?
For more information contact our Community Arts Director.