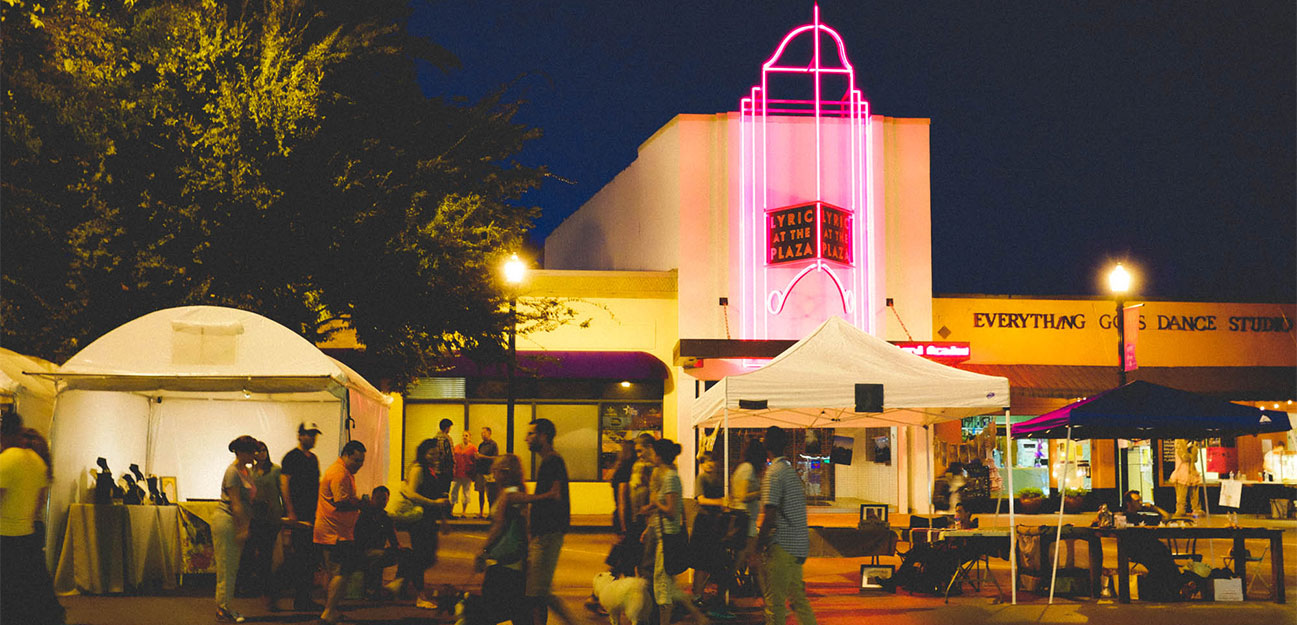 Plaza District
Certified Cultural District
Location: Northwest of downtown Oklahoma City (NW 16th St. and Blackwelder Ave.)
Original Certification: October 2015
Website: www.plazadistrict.org

Situated on NW 16th Street between Classen and Pennsylvania avenues northwest of Midtown Oklahoma City, the Plaza District is a local hub for all things art and entertainment. Once a neighborhood threatened by crime, the Plaza District has been revitalized through the pioneering efforts of artists and arts organizations. Lyric Theatre of Oklahoma's 2005 move to the district, where it purchase and restored the Plaza Theatre, helped spur rapid transformation of the area. Nationally recognized, Lyric presents year-round productions and offers a theatre academy for students. Another district tenant, Everything Goes Dance provides classes in a variety of dance genres. The district now features over 45 thriving businesses, with galleries and studios intermingling with local shops, gourmet restaurants, and lively bars. Plaza Walls, an initiative launched in 2015, brings new, curated murals to the district on a rotating basis.
The Plaza Arts Association is a nonprofit organization has worked to rejuvenate 16th Street since 1997. The association continues to strengthen the Plaza District through regular arts-based and cultural programming. Live! On the Plaza, a monthly block party, highlights local musicians, artists, and businesses. The Plaza District Festival is an annual event featuring live music, food trucks, and children's activities, drawing nearly 20,000 visitors. Oklahoma City's recent renaissance can be felt across many neighborhoods throughout the city, but the Plaza District remains one of the vanguard areas frequented by locals and visitors alike. 
Learn more about the Plaza District.
Certified Cultural Districts
Learn more about each Oklahoma Arts Council Certified Cultural District below:
Cultural District Certification
NOTE: Cultural District Certification is currently inactive due to budget cuts.
Oklahoma districts that have applied and met the requirements of the Cultural District Certification program may be designated as an Oklahoma Arts Council Certified Cultural District. Program requirements include a minimum three-year history of cultural programming, designated boundaries, a wide-range of public and private support, strong collaborations with arts and non-arts organizations and individual artists, a diverse oversight committee, and support for a district coordinator.
Learn more about the Cultural District Certification program.
What is a cultural district?
A cultural district is a mixed-use area of a community in which a high concentration of arts and cultural facilities or activities serves as the anchor of attraction. Cultural districts can be found in communities of all sizes - rural and urban. Ideally, a district reflects its community's unique built environment and history, showcases the region's artists and cultural traditions, and increases social engagement.
Learn more about the Oklahoma Arts Council's Cultural District Initiative.
Questions?
For more information contact our Community Arts Director.