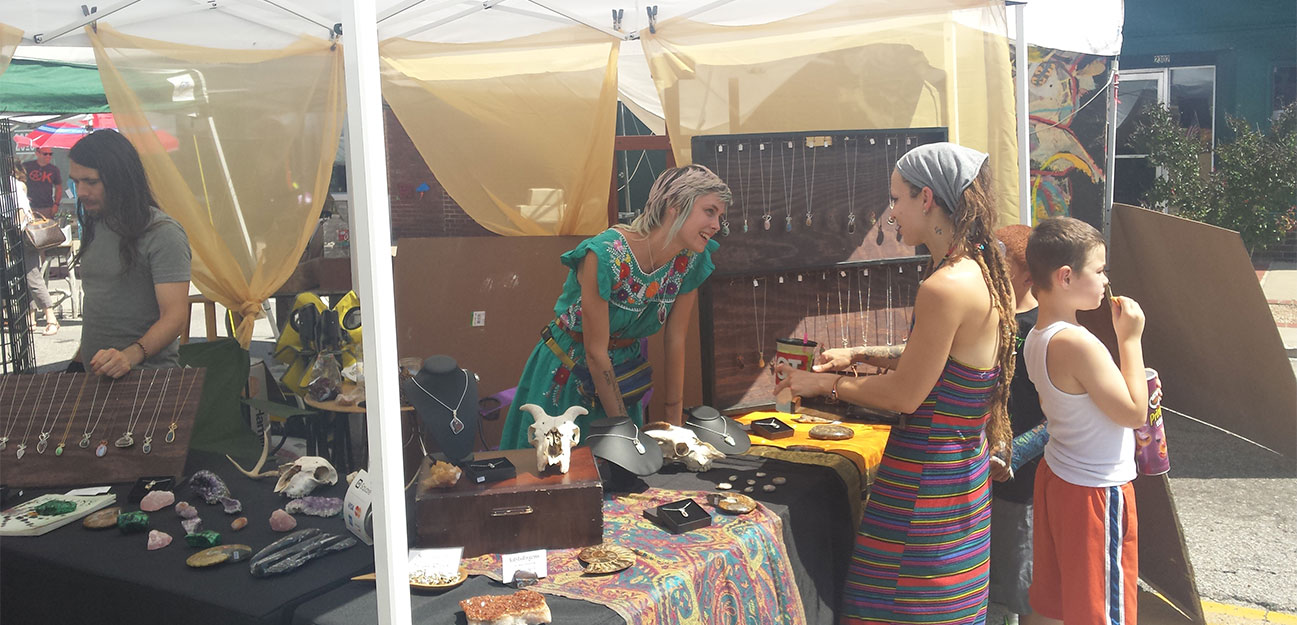 Kendall Whittier District
Certified Cultural District
Location: East of downtown Tulsa (Admiral Blvd. and Lewis Ave.)
Original Certification: October 2015
Website: www.historickwms.com

Located two miles east of downtown Tulsa, near the University of Tulsa campus, the Kendall Whittier district offers a rich array of arts and cultural programming for the Tulsa community. Featuring a mix of artist and creative studios, independent retailers, and local eateries, Kendall Whittier district anchors include Circle Cinema - a nonprofit art house theater, and the Tulsa Girls Art School - a nonprofit arts education organization that serves elementary-aged girls living in Tulsa's inner city. Ongoing cultural programming in the district includes the Kendall Whittier Art Festival, free outdoor concerts, gallery exhibitions and receptions, art workshops, free summer movies, special film screenings, film festivals, and more.
Located along a previous alignment of historic Route 66, the Kendall Whittier area was a vibrant local business district until the 1960s. In 2010, in an effort to restore the district, Kendall Whittier Main Street was established as a 501(c)3 nonprofit organization. Since 2010, through public/private partnerships at the city and state levels, Kendall Whittier Main Street and district stakeholders have leveraged local artistic and creative assets, along with other resources, to spark the district's resurgence. Now, combined with historic buildings, wide sidewalks, and walkable charm, the urban fabric of the Kendall Whittier district has created a true sense of place in midtown Tulsa.
Learn more about the Kendall Whittier district.
Certified Cultural Districts
Learn more about each Oklahoma Arts Council Certified Cultural District below:
Cultural District Certification
NOTE: Cultural District Certification is currently inactive due to budget cuts.
Oklahoma districts that have applied and met the requirements of the Cultural District Certification program may be designated as an Oklahoma Arts Council Certified Cultural District. Program requirements include a minimum three-year history of cultural programming, designated boundaries, a wide-range of public and private support, strong collaborations with arts and non-arts organizations and individual artists, a diverse oversight committee, and support for a district coordinator.
Learn more about the Cultural District Certification program.
What is a cultural district?
A cultural district is a mixed-use area of a community in which a high concentration of arts and cultural facilities or activities serves as the anchor of attraction. Cultural districts can be found in communities of all sizes - rural and urban. Ideally, a district reflects its community's unique built environment and history, showcases the region's artists and cultural traditions, and increases social engagement.
Learn more about the Oklahoma Arts Council's Cultural District Initiative.
Questions?
For more information contact our Community Arts Director.