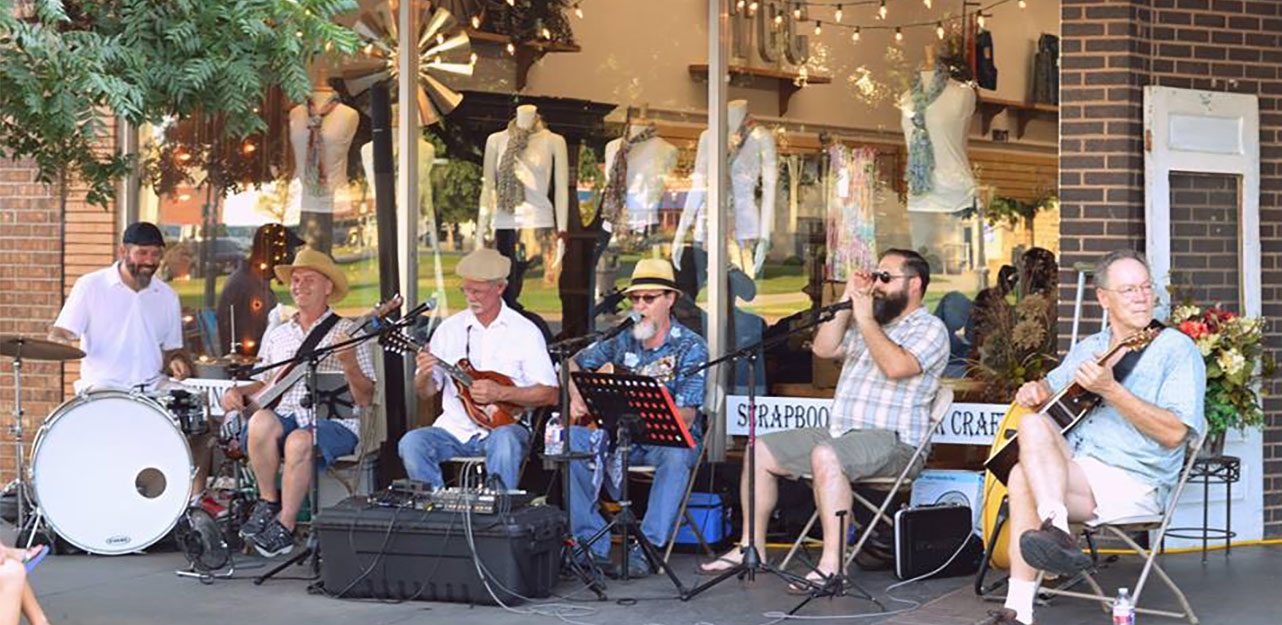 Enid Arts & Entertainment District
Certified Cultural District
Location: Downtown Enid
Original Certification: October 2015
Website: www.mainstreetenid.org

Enid's Arts & Entertainment District is a thriving arts and business center that spans an eight-block stretch in the heart of the city. A hub for the community and a destination for visitors, the district hosts a variety of popular events and activities, including the annual Downtown Arts Festival, Tri State Music Festival Parade, FLY Film Festival, and the Red Brick Road Food Truck and Art Festival. Several iconic institutions located within the district provide the community with continual arts-based and cultural programming, including The Enid Event Center, Gaslight Theatre, and the Enid Symphony Orchestra. Educational opportunities in the arts for children and adults are available at Leonardo's Children's Museum, Creative Arts Enid, and Dance Works. Downtown Enid has maintained its historic charm while welcoming an influx of eateries, retail shops, galleries, and more. Noted artists such as Western sculptor and painter Harold T. Holden, photographer Mike Klemme, and Shane and Sara Scribner maintain studios in the district. Façade renovations and public art projects, including a mural by award-winning Oklahoma artist Rick Sinnett have added to the district's visual appeal.
District activities are coordinated by Enid Main Street, recognized as one of the premier Main Street programs in the country. Enid Main Street has helped bring more than 12 million dollars in investment to the downtown area since the program began in 1994. With cultural offerings and events hosted throughout the year, Enid's Art's & Entertainment District has become a cultural destination in Oklahoma.
Learn more about the Enid Arts & Entertainment District.
Certified Cultural Districts
Learn more about each Oklahoma Arts Council Certified Cultural District below:
Cultural District Certification
NOTE: Cultural District Certification is currently inactive due to budget cuts.
Oklahoma districts that have applied and met the requirements of the Cultural District Certification program may be designated as an Oklahoma Arts Council Certified Cultural District. Program requirements include a minimum three-year history of cultural programming, designated boundaries, a wide-range of public and private support, strong collaborations with arts and non-arts organizations and individual artists, a diverse oversight committee, and support for a district coordinator.
Learn more about the Cultural District Certification program.
What is a cultural district?
A cultural district is a mixed-use area of a community in which a high concentration of arts and cultural facilities or activities serves as the anchor of attraction. Cultural districts can be found in communities of all sizes - rural and urban. Ideally, a district reflects its community's unique built environment and history, showcases the region's artists and cultural traditions, and increases social engagement.
Learn more about the Oklahoma Arts Council's Cultural District Initiative.
Questions?
For more information contact our Community Arts Director.