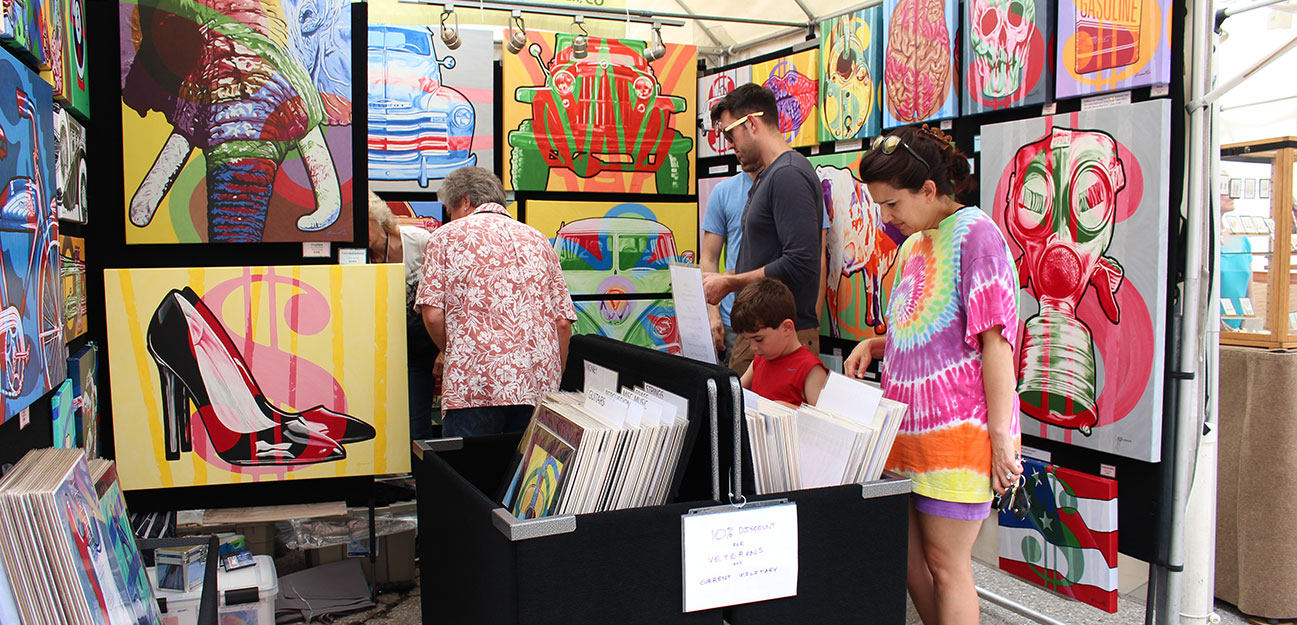 Paseo Arts District
Certified Cultural District
Location: North of downtown Oklahoma City (NW 30th St. and Dewey Ave.)
Original Certification: October 2015
Website: www.thepaseo.org

The Paseo Arts District is a staple in Oklahoma City, beginning as the first shopping district north of downtown Oklahoma City in the late 1920s, and formally transitioning into Oklahoma's first arts district in the 1970s. Now, the Paseo Arts District is home to more than 20 galleries, as well as several restaurants and boutiques, all within a walkable, two-block stretch just north of downtown. Each year, the Paseo Arts Association provides an array of programming opportunities designed to enhance arts in the community. Most notably, the nationally recognized Paseo Arts Festival draws over 60,000 people and features nearly 90 fine artists, dozens of performing artists, and interactive art areas for children. Each month, the First Friday Gallery Walk attracts over 2,000 visitors to view displays from more than 80 artists while Paseo galleries offer refreshments and entertainment. A partnership between the district and nearby Edgemere Elementary has broadened the impact of the district's activities. The annual Fairy Ball and the Magic Lantern celebration, both popular with local families with young children, have also strengthened the district's connection with its surrounding neighborhoods. Year-round workshops and classes are also available at several of the gallery spaces.
District activites are coordinated by the Paseo Arts Association (PAA), a nonprofit formed in 1982 to further facilitate the development of the Paseo into a recognized arts district. Through public and private support, the PAA was able to energize and transform the district into a haven for the arts. Today, the vibrancy and personality of the District have solidified it as an iconic fixture in the OKC cityscape. 
Learn more about the Paseo Arts District.
Certified Cultural Districts
Learn more about each Oklahoma Arts Council Certified Cultural District below:
Cultural District Certification
NOTE: Cultural District Certification is currently inactive due to budget cuts.
Oklahoma districts that have applied and met the requirements of the Cultural District Certification program may be designated as an Oklahoma Arts Council Certified Cultural District. Program requirements include a minimum three-year history of cultural programming, designated boundaries, a wide-range of public and private support, strong collaborations with arts and non-arts organizations and individual artists, a diverse oversight committee, and support for a district coordinator.
Learn more about the Cultural District Certification program.
What is a cultural district?
A cultural district is a mixed-use area of a community in which a high concentration of arts and cultural facilities or activities serves as the anchor of attraction. Cultural districts can be found in communities of all sizes - rural and urban. Ideally, a district reflects its community's unique built environment and history, showcases the region's artists and cultural traditions, and increases social engagement.
Learn more about the Oklahoma Arts Council's Cultural District Initiative.
Questions?
For more information contact our Community Arts Director.