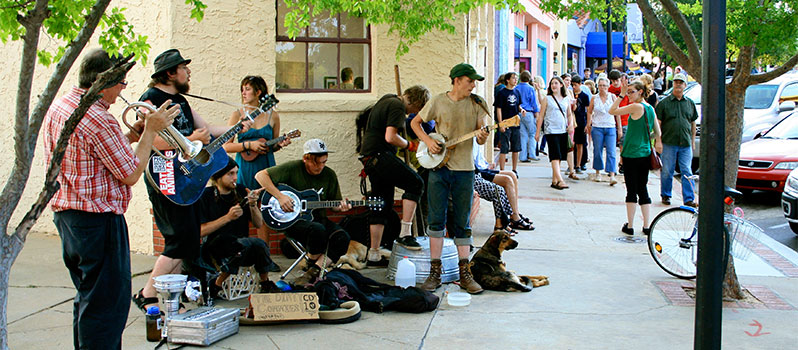 Cultural District Certification
Established Oklahoma districts that meet program criteria may be eligible to receive formal certification as an Oklahoma Arts Council Certified Cultural District. NOTE: Cultural District Certification is currently inactive due to budget cuts.
Certified Cultural Districts
Learn more about each Oklahoma Arts Council Certified Cultural District below:
Program Purpose
The purpose of the Cultural District Certification program is to:
Establish a set of standards and provide accountability for ensuring successful and sustainable arts and cultural districts across Oklahoma.
Support the continued success of established districts through the provision of technical assistance and increased visibility.
Highlight and promote established districts as models for other communities.
Benefits of being a Certified Cultural District
Service from the Oklahoma Arts Council as an accountability partner to ensure a healthy and sustainable district
Standards that establish a foundation for potential growth
The seal of approval from the official state arts agency
Recognition and promotion by the Oklahoma Arts Council
Technical assistance from Oklahoma Arts Council staff
Technical assistance from state agency program partners
Criteria for Certification
To be considered for certification, applicants must demonstrate the following in their application:
Evidence of solid, audience-based arts and cultural programming, including arts education, for the previous three years
A recognized identity as a district with designated boundaries
A wide-range of public and private support through funding and partnerships
Strong collaborations with arts and non-arts organizations, including individual artists
A healthy and diverse committee to oversee the district
Support for a district coordinator
Application and Renewal of Certification
NOTE: Cultural District Certification is currently inactive due to budget cuts.
The Oklahoma Arts Council accepts program applications every three years. Districts that have been certified in the past must demonstrate that they continue to meet certification guidelines by applying for renewal every three years.
Applications can be submitted anytime during the calendar year. Support materials must be submitted as noted in the application.
Oklahoma Arts Council staff pre-screens all applications to validate requirements compliance.
Panelist review: scoring of application and support material by an outside panel of professionals.
Submission of panelist recommendations to the Governor-appointed Oklahoma Arts Council board for final approval.
The Oklahoma Arts Council reserves the right at any time to check compliance for certification.
What is a cultural district?
In general, a cultural district is a mixed-use area of a community in which a high concentration of arts and cultural facilities or activities serves as the anchor of attraction. Cultural districts can be found in communities of all sizes - rural and urban. Ideally, a district reflects its community's unique built environment and history, showcases the region's artists and cultural traditions, and increases social engagement.
Cultural districts act as an agent for positive growth in a community by:
Incentivizing new and relocating businesses
Stimulating commerce
Boosting tourism
Fostering civic pride
Enhancing quality of life
Increasing property values
Attracting a well-educated and creative workforce
Learn more about the Oklahoma Arts Council's Cultural District Initiative.
Questions?
For more information contact our Community Arts Director.