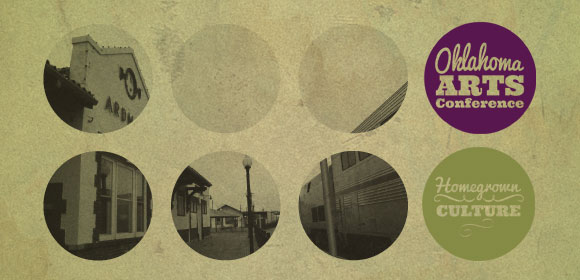 GATHER: An Interactive Art Experience
We GATHER together in Ardmore to strengthen our viable arts industry and to share ideas and resources. We GATHER in support of the Arts!

Be part of an interactive mosaic art project that will take place during the 2013 Oklahoma Arts Conference. Lead by Ardmore artists Traci Martin and Jan Tindale, conference members will help create large scale mosaic tiles that will eventually be installed in one of Ardmore's parks. Mosaic materials will be provided, however…to make this a unique project, conference attendees are requested to bring an object form home to contribute to the mosaic.

Mosaic items should be weather proof. Suggestions include:
Coins or metal trinkets
Ceramic tile, including broken dishes or pottery
Rocks or fossils
Glass beads or colored glass pieces
Old or broken jewelry

Questions?
For more information email us at conference@arts.ok.gov.