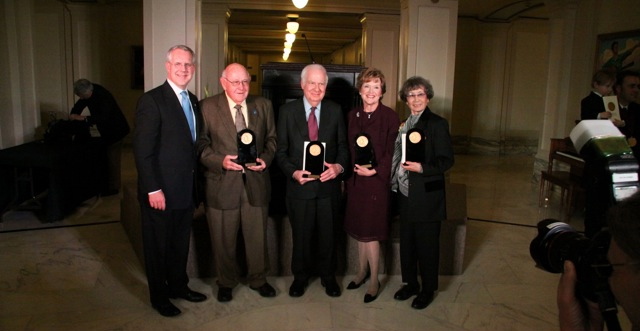 The Governor's Arts Awards is an annual event recognizing individuals and organizations whose efforts have impacted the arts in their communities or throughout the state. First awarded in 1975, the awards are presented by the Governor during a special ceremony at the Oklahoma State Capitol.
Nominations

Nominations
Each year the Oklahoma Arts Council solicits nominations for the Governor's Arts Awards. Nominations are generally accepted beginning in June with a deadline for submissions in early August.

Selection Process
Award recipients are selected by members of the Governor-appointed Oklahoma Arts Council board. Council members reserve the right to honor a recipient in a category of their choice.
Eligibility
Nominees must be current, full-time Oklahoma residents or organizations that work in and for the benefit of Oklahoma. Previous recipients of the Governor's Award are not eligible. To view past award winners click on the link below.
Categories
The Governor's Award
Arts in Education Award
Business in the Arts Award
Community Service Award
Media in the Arts Award
Public Service Award (government leaders, employees)
Criteria
The following sections are covered in the nomination form. Only areas that are relevant to the nominee's efforts should be addressed:
nominee's general involvement in the arts

nominee's leadership in major initiatives

nominee's work to increase funding and resources

nominee's efforts to increase public awareness of the arts

nominee's efforts to increase access to the arts for underserved individuals and/or communities

nominee's impact on arts education

nominee's volunteer work in the arts
Submit a nomination

Submit an Online Nomination (beginning June 2013)

Download a Nomination Form (beginning June 2013)
Questions?
For more information contact our Director of Marketing & Communications.