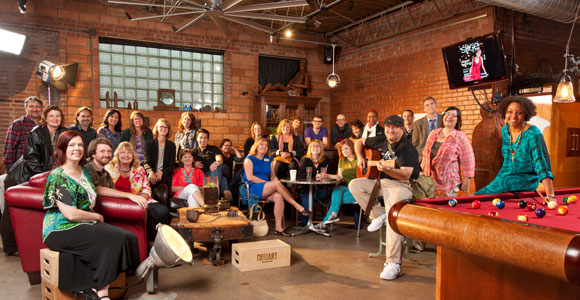 The Oklahoma Arts Council's Leadership Arts program equips 30 participants from throughout the state each year to become leaders and advocates for the arts in their communities. During four two-day sessions, selected participants learn about the arts' role in community and economic development, education, and quality of life.
2014 Leadership Arts Class Members
Ada, Samantha Dillehay (East Central University)
Alva, Mary Cline (Graceful Arts Gallery and Studios)
Ardmore, Julie Aultman (Sutton-Williams, L.P.)
Ardmore, Elizabeth Waltz (Goddard Art Studios Office Manager)
Bartlesville, Nancy Warring (City of Bartlesville)
Guthrie, Shirley Clifford (Prairie Gothic)
Lawton, Jordan Godlewski (Arts for All, Inc.)
Locust Grove, Shaun Perkins (Rural Oklahoma Museum of Poetry)
Muskogee, Jim Blair (Oklahoma Music Hall of Fame)
Norman, Jennifer Baker (The Sooner Theatre)
Norman, Jon Knudson (Karmatone Productions)
Norman, Laura Reese (Oklahoma Visual Arts Coalition)
Oklahoma City, Gregory Arnold (performing artist)
Oklahoma City, Leslie Blair (Oklahoma Tourism and Recreation Department)
Oklahoma City, Kendall Brown (IAO Gallery)
Oklahoma City, Nathan Gunter (Oklahoma Today magazine)
Oklahoma City, Matt Latham (Stand for Children Oklahoma)
Oklahoma City, Cayla Lewis (Plaza District Association)
Oklahoma City, Kiona Millirons (Smart Start in the Schools)
Oklahoma City, Nancy Nortz (Oklahoma State Fair)
Oklahoma City, Douglas Sorocco (Dunlap Codding, PC)
Oklahoma City, Erin Woods (Reduxion Theatre)
Stillwater, Meghan Brasuell (University of Central Oklahoma)
Stillwater, William Miller (Multi Arts Center)
Tahlequah, Renee Fite (Tahlequah Daily Press)
Tahlequah, Anita Thompson (Sequoyah Institute - Northeastern State University)
Tulsa, Ariana Jakub (Tulsa Public Schools)
Tulsa, Emily Kern (108 Contemporary/Brady Craft Alliance)
Tulsa, Matt Moffett (The Tulsa Girls Art School Project)
Tulsa, Jesus Villarreal (Tulsa Camerata)
Tulsa, Wilma Whitaker (Mayors Commission Greater Tulsa American Indian Commission)
2014 Leadership Arts Sessions
February 19-20 (Quartz Mountain Lodge and Resort in Lone Wolf, OK)
March 19-20 (Tahlequah)
April 23-24 (Enid)
May 21-22 (Tulsa)
October 22-23 (Oklahoma Arts Conference in Norman)
About Leadership Arts

Who Can Benefit from Attending?
Staff or board members of arts organizations, artists, civic leaders, economic and community development staff, school board members, community citizens, and business leaders.
What You Will Learn
Leadership Arts curriculum is designed for adult learners across cultural and educational backgrounds. Participants will learn why and how the arts make a significant contribution to Oklahoma's economy, how communities have developed arts programs and vibrant arts spaces to enhance quality of life, how the arts improve the image of cities and neighborhoods while serving as a centerpiece for community engagement, and how the arts cultivate creativity, attracting and retaining a creative workforce.
Sessions are interactive and will expand participants' understanding of group dynamics and the value of group work. Leadership Arts will help you better articulate and advocate for the arts in Oklahoma, design strategies for employing local assets for cultural development, work towards creative partnerships and consensus building, and teach you to mobilize your leadership capacity and the capacity of others.
How Leadership Arts is Structured
Approximately 30 participants are selected each year from a list of applicants to attend four two-day sessions during the spring (the application period takes place in the fall). Participants are selected from communities throughout the state, with an emphasis placed on geographic diversity. Participants are required to attend the Oklahoma Arts Conference in the fall to graduate from the program.
Sessions are devoted to hands-on learning, group work, panels of community members who discuss the arts in their area, and tours of community arts spaces. Reading assignments are emailed to participants prior to each meeting.
How Much Does Leadership Arts Cost?
The program and curriculum are free but class members do incur costs for food, lodging, and travel. The average cost per session is $150 - $200. Class members often represent organizations that will benefit from the training and are willing to cover these costs.
Click here to view past Leadership Arts graduates

Questions?
For more information contact our Director of Cultural Development.