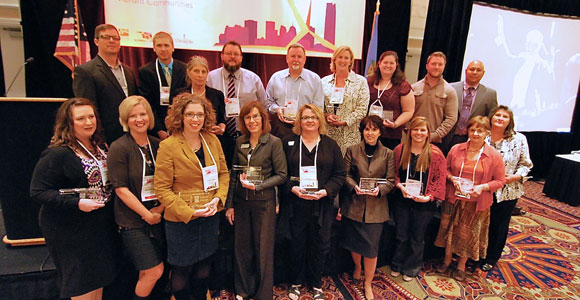 The Oklahoma Arts Council's Leadership Arts program equips 30 participants from throughout the state each year to become leaders and advocates for the arts in their communities. During four two-day sessions, selected participants learn about the arts' role in community and economic development, education, and quality of life.
2013 Leadership Arts Class Members
Ada, Debra Collins Bailey (Chickasaw Nation Division of Arts and Humanities)
Altus, Jennie Buchanan (Museum of the Western Prairie)
Altus, Kathy Hale (Southern Prairie Library System)
Ardmore, Nicki Wood (Greater Southwest Historical Museum)
Broken Arrow, Benita Brewer (Focal Point Artists Studio and Gallery)
Chickasha, Jonathan Manning (Oasis Studios & Gallery)
Cromwell, Mary Richardson (Seminole Nation Museum)
Duncan, Stacy Cramer Moore (Chisholm Trail Heritage Center)
Edmond, Ebony Iman Dallas (Afrikanation Artists Organization)
Edmond, Lisa Allswede (Funky Box Studios)
Enid, Marcy Jarrett (Enid Convention & Visitors Bureau)
Eufaula, Selian Jayne-Dornan (City of Eufaula)
Guthrie, Lucy Swanson (Guthrie Chamber of Commerce)
Kingfisher, Shel Wagner (Discover Oklahoma)
Lawton, Shelley Lytle (Lawton Community Theatre)
Miami, Ann Neal (First National Bank and Trust Co. of Miami, OK)
Miami, Jessica Stout (NEO A&M College)
Norman, Jonathan Fowler (Fowler Volkswagen of Norman)
Norman, Kevin Smith (Cimarron Opera)
Norman, Stephen Koranda (Norman Convention and Visitors Bureau)
Oklahoma City, Amy Young (Sixtwelve)
Oklahoma City, Kasandra Cooper, (Paseo Arts Association)
Oklahoma City, Cassie Gage (Oklahoma Tourism and Recreation Department)
Oklahoma City, Gayle Curry (Paseo Arts Association)
Shawnee, Daniel Lay (Mabee-Gerrer Museum of Art)
Tahlequah, Doug Moore (City of Tahlequah)
Tulsa, Isaac Rocha (The Bama Companies, Inc.)
Tulsa, Janet Duvall (Tulsa Glassblowing School)
Tulsa, Marjorie Bontemps (AHHA Hardesty Art Center)
Westville, Brenda Bradford (Northeastern State University)
Woodward, Charles Burns (Woodward Arts Theatre)
2013 Leadership Arts Sessions
February 20-21 (Quartz Mountain Lodge, Lone Wolf)
March 20-21 (Coleman Theatre, Miami)
April 24-25 (Forest Heritage Center and Red River Museum, McCurtain County)
May 22-23 (Oklahoma City)
October 23-24 (Oklahoma Arts Conference in Ardmore)
About Leadership Arts

Who Can Benefit from Attending?
Staff or board members of arts organizations, artists, civic leaders, economic and community development staff, school board members, community citizens, and business leaders.
What You Will Learn
Leadership Arts curriculum is designed for adult learners across cultural and educational backgrounds. Participants will learn why and how the arts make a significant contribution to Oklahoma's economy, how communities have developed arts programs and vibrant arts spaces to enhance quality of life, how the arts improve the image of cities and neighborhoods while serving as a centerpiece for community engagement, and how the arts cultivate creativity, attracting and retaining a creative workforce.
Sessions are interactive and will expand participants' understanding of group dynamics and the value of group work. Leadership Arts will help you better articulate and advocate for the arts in Oklahoma, design strategies for employing local assets for cultural development, work towards creative partnerships and consensus building, and teach you to mobilize your leadership capacity and the capacity of others.
How Leadership Arts is Structured
Approximately 30 participants are selected each year from a list of applicants to attend four two-day sessions during the spring (the application period takes place in the fall). Participants are selected from communities throughout the state, with an emphasis placed on geographic diversity. Participants are required to attend the Oklahoma Arts Conference in the fall to graduate from the program.
Sessions are devoted to hands-on learning, group work, panels of community members who discuss the arts in their area, and tours of community arts spaces. Reading assignments are emailed to participants prior to each meeting.
How Much Does Leadership Arts Cost?
The program and curriculum are free but class members do incur costs for food, lodging, and travel. The average cost per session is $150 - $200. Class members often represent organizations that will benefit from the training and are willing to cover these costs.
Click here to view past Leadership Arts graduates

Questions?
For more information contact our Director of Cultural Development.