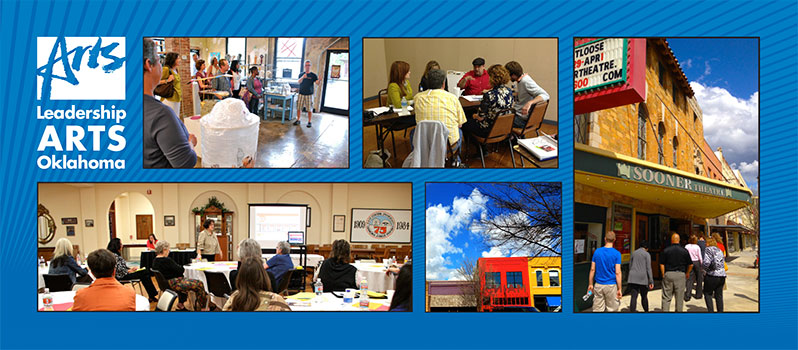 The Oklahoma Arts Council's Leadership Arts program equips approximately 30 participants from throughout the state each year to become leaders and advocates for the arts in their communities. During four two-day sessions, selected participants learn about the arts' role in community and economic development, education, and quality of life.
Apply for Leadership Arts
Interested in applying for the Leadership Arts program? The Oklahoma Arts Council accepts online applications for the program each fall.
Sign up for the Oklahoma Arts Council newsletter to receive updates about Leadership Arts.
2017 Leadership Arts Members
Scott Ambler, Price Tower Arts Center (Bartlesville)
Sandra Kent, Oklahoma A+ Schools (Bartlesville)
Dedra Morgan, Bartlesville Art Association (Bartlesville)
Dian Jordan, University of Texas of the Permian Basin (Broken Bow)
Adam Heilman, University of Science and Arts of Oklahoma (Chickasha)
Linda Moore, Enid Arts Council (Enid)
Glenna McBride, Eufaula Area Arts Council (Eufaula)
Andrew Ray, Eufaula Area Arts Council (Eufaula)
Sharon Cheatwood, City of Lawton (Lawton)
Cindy Scarberry, Opry Heritage Foundation of Oklahoma (Moore)
Jermaine Mondaine, Proforma Mondaine Marketing & Media (Muskogee)
Brian Grider, Trinity Baptist Church of Yukon / City of Mustang (Mustang)
Robert Arrington, Oklahoma Department of Veterans Affairs (Norman)
Wilmari Ruiz, Enye Music / Academia OKC (Norman)
Maya Hering, Oklahoma Arts Council (Oklahoma City)
Susan Marshall-Armstrong, Wilson Elementary School (Oklahoma City)
Anne Oakley, Townley District (Oklahoma City)
Erin Oldfield, Oklahoma Contemporary Arts Center (Oklahoma City)
John Selvidge, Ralph Ellison Foundation (Oklahoma City)
Jarica Walsh, Oklahoma Visual Arts Coalition (Oklahoma City)
Shoshana Wasserman, The American Indian Cultural Center and Museum (Oklahoma City)
Bayly Wright, Cherokee Nation (Park Hill)
Addie Roanhorse, Osage Nation (Pawhuska)
Jennifer Barretto, Sand Springs Public Schools (Sand Springs)
Susan Teeters, Tulsa Glassblowing School (Sand Springs)
Sheri Ishmael-Waldrop, Sapulpa Arts (Sapulpa)
David Timmons, Stroud Arts (Stroud)
Aaron Beck, Tulsa Opera (Tulsa)
Krystle Brewer, 108|Contemporary (Tulsa)
Krystal Grizzle, Tulsa International Mayfest (Tulsa)
Sarah Wright, Gilcrease Museum (Tulsa)
2017 Leadership Arts Sessions
February 22-23 (Chickasaw Retreat & Cultural Center in Sulphur)
March 22-23 (Lawton)
April 26-27 (Pawhuska)
May 24-25 (Tulsa)
October 25-26 (2017 Oklahoma Arts Conference in Enid)
About Leadership Arts

Who Can Benefit from Attending?
Staff or board members of arts organizations, artists, civic leaders, economic and community development staff, school board members, community citizens, business leaders, and others.
What You Will Learn
Leadership Arts curriculum is designed for adult learners across cultural and educational backgrounds. Participants will learn why and how the arts make a significant contribution to Oklahoma's economy, how communities have developed arts programs and vibrant arts spaces to enhance quality of life, how the arts improve the image of cities and neighborhoods while serving as a centerpiece for community engagement, and how the arts cultivate creativity, attracting and retaining a creative workforce.
Sessions are interactive and will expand participants' understanding of group dynamics and the value of group work. Leadership Arts will help you better articulate and advocate for the arts in Oklahoma, design strategies for employing local assets for cultural development, work towards creative partnerships and consensus building, and teach you to mobilize your leadership capacity and the capacity of others.
How Leadership Arts is Structured
Approximately 30 participants are selected each year from a list of applicants to attend four two-day sessions during the spring (the application period takes place in the fall). Participants are selected from communities throughout the state, with an emphasis placed on geographic diversity. Participants are required to attend the Oklahoma Arts Conference in the fall to graduate from the program.
Sessions are devoted to hands-on learning, group work, panels of community members who discuss the arts in their area, and tours of community arts spaces. Reading assignments are emailed to participants prior to each meeting.
How Much Does Leadership Arts Cost?
The program and curriculum are free but class members do incur costs for food, lodging, and travel. The average cost per session is $150 - $200. Class members often represent organizations that will benefit from the training and are willing to cover these costs.
Leadership Arts Graduates
Since Leadership Arts began in 2008, hundreds of Oklahomans from all parts of the state have graduated from the program and are now working to improve their communities through arts and culture.
Click here to view past Leadership Arts graduates
Questions?
For more information contact our Director of Cultural Development.