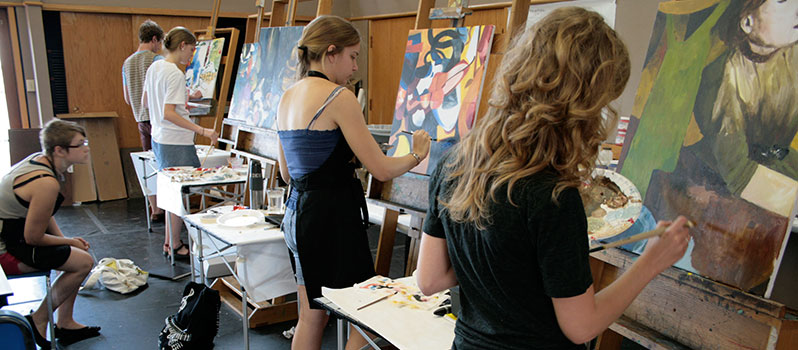 Oklahoma Arts Council funding helps communities across Oklahoma strengthen their economies, improve education, preserve their culture and heritage, and enrich quality of life.

Before Governor Henry Bellmon created the Council in 1965, Oklahomans had to travel to large metropolitan cities or coastal areas of the U.S. to experience the arts. Since 1965, Council funding has allowed Oklahomans in communities throughout the state to benefit from access to the arts.

Here's why the arts matter:
Economy
According to a study released in 2010, nonprofit arts and cultural organizations have a $314.8 million impact on the state's economy (The Economic Impact of Nonprofit Arts and Culture Organizations in Oklahoma). The study showed the industry supports 10,156 full-time equivalent jobs, and generates over $29 million in state and local government revenues. Oklahoma Arts Council funding makes it possible for organizations to provide the arts programming that strengthens our economy.
Education
Studies consistently demonstrate the arts' impact on education and overall student achievement. Students with four years of arts education in high school score significantly higher on college entrance exams than students with little or no arts education. Arts education has been shown to increase performance in non-arts subjects like math and science. Other proven benefits include an increase in school attendance and civic engagement, and a decrease in anti-social behaviors. Oklahoma Arts Council funding makes arts education programs possible in schools and communities throughout the state.
Culture
The arts are important for preserving and carrying on our unique heritage. Festivals throughout the state recall and celebrate our diverse cultural roots. Tourists from all over the world come to Oklahoma to attend arts and cultural events and learn about our proud traditions. The arts offer an engaging way to teach children and students about our history. Our funding makes it possible to preserve and share Oklahoma's compelling story.
Quality of Life
Communities that offer vibrant arts and cultural amenities are more likely to attract young professionals, retain young talent, appeal to businesses, and provide a setting where people want to live and raise families. Programs funded by the Oklahoma Arts Council provide the quality of life many people desire.