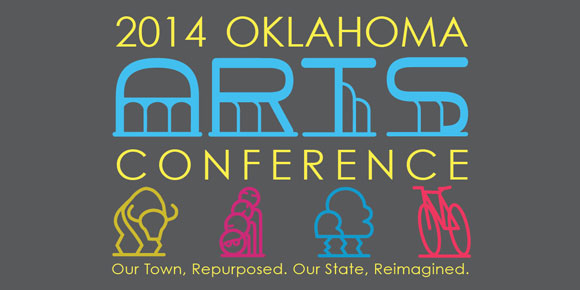 2014 Oklahoma Arts Conference
Our Town, Repurposed. Our State, Reimagined.
October 22-23
Embassy Suites Hotel and Conference Center
Norman

Registration
Online registration for the 2014 Oklahoma Arts Conference is no longer available. However, we do our best to accommodate anyone who wants to attend the conference. If you wish to register, please send a brief email to conference@arts.ok.gov, and we will respond with instructions.
We look forward to seeing you at the 2014 Oklahoma Arts Conference in Norman on October 22-23!
Earlybird registration $85
Registration $135 (after September 19)
Our Town, Repurposed. Our State, Reimagined.
As stakeholders in our communities, do we have a bold vision that features our artists, arts organizations and other cultural resources in principal roles? During the 2014 Oklahoma Arts Conference you will learn how your community can cast its own vision and how that vision can be a part of reimagining Oklahoma with arts and culture more vibrant than ever.
Sign up for our newsletter to receive updates about the 2014 Oklahoma Arts Conference.
About the Oklahoma Arts Conference
Each year the Council organizes the statewide Oklahoma Arts Conference to bring together the state's arts and cultural industry. The conference provides professional development and networking opportunities for arts managers and organizations, artists, community and economic development professionals, students, educators, and others working in the arts and cultural industry in Oklahoma.

The conference includes tracks led by industry experts that focus on nonprofit management, professional development for artists, and community and economic development through the arts. Attendees can expect a variety of presentations, workshops, panel discussions, and performances. Evening events allow participants to experience the arts in the host community.

Each year the conference brings together hundreds of people involved in the arts in one location where participants get equipped for success, share ideas, and celebrate our vibrant and growing creative industry.
Questions?
For more information contact our Director of Cultural Development.