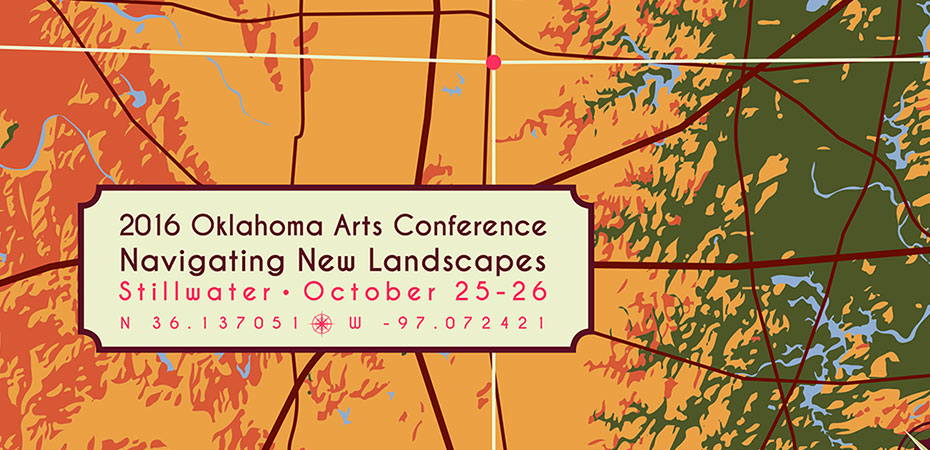 2016 Oklahoma Arts Conference
October 25-26
Stillwater, OK
Pre-conference October 24
Registration $135
Register for the 2016 Oklahoma Arts Conference
Online registration ended October 14. To register, come to the conference registration desk with a check, cash, or purchase order. Credit cards will not be accepted at the registration desk. Registration is $135.
About the 2016 Oklahoma Arts Conference
To prepare Oklahoma's arts industry for the challenges of an ever-changing landscape, the 2016 Oklahoma Arts Conference will outfit artists, nonprofit administrators, board members, community developers, educators, and others with the tools needed to achieve their goals.
Plan now to join more than 400 members of Oklahoma's arts community at the 2016 Oklahoma Arts Conference in Stillwater on October 25-26. During the conference, attendees will learn how to navigate new realities confronting the arts sector, and discover how to turn challenges in to opportunities.
Deadline to register for the conference is October 14. Details about sessions, speakers, events, and more will be announced soon.
Sign up for our newsletter to receive updates about the 2016 Oklahoma Arts Conference.
About the Oklahoma Arts Conference
View photos of the 2015 Oklahoma Arts Conference in Tulsa.
Each year, the Oklahoma Arts Council organizes the statewide Oklahoma Arts Conference to bring together the state's arts and cultural industry. The conference provides professional development and networking opportunities for arts managers and organizations, artists, community and economic development professionals, students, educators, and others working in the arts and cultural industry in Oklahoma.

The conference includes tracks led by industry experts that focus on nonprofit management, professional development for artists, and community and economic development through the arts. Attendees can expect a variety of presentations, workshops, panel discussions, and performances. Evening events allow participants to experience the arts in the host community.

The annual conference brings together hundreds of people involved in the arts in one location where participants get equipped for success, gain and share ideas, and celebrate our vibrant and growing creative industry.
Questions?
For more information contact our Director of Cultural Development.