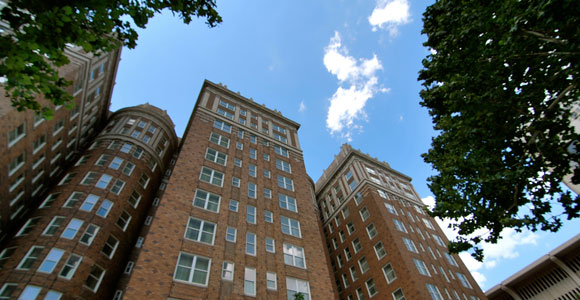 Conference Hotel Information
The Skirvin Hilton Oklahoma City is an elegant and historic building in the heart of downtown Oklahoma City, adjacent to the Cox Convention Center. Near to the Bricktown Entertainment District, the hotel is a short walk to the many local attractions. For a century, this downtown Oklahoma City hotel has been a base for influential Americans, including past presidents and politicians. It has now been architecturally restored to ensure the building remains a grand landmark in the city.
**Reserve your room by October 3!
The deadline to reserve your room at the conference rate has passed; however, you can still reserve your room at the Skirvin Hilton Hotel for $179 per night. The Renaissance Hotel, across from the Skirvin, has agreed to accommodate our guests at the original conference rate of $132. If you would like to reserve a room at the Renaissance Hotel click here.
To reserve your room at the Skirvin Hilton: http://www3.hilton.com/en/hotels/oklahoma/the-skirvin-hilton-oklahoma-city-OKCSKHF/index.html

Registration Code = OKARTS
Place registration code in the corporate/group box.
The Skirvin Hilton
1 Park Avenue
Oklahoma City, Oklahoma 73102
405-272-3040
Maps & Directions
View Larger Map
Parking
For those attending during the day we still have the valet option @ $12.00 per day parking or the Santa Fe Garage located directly next to the hotel @ $2.00 per hour and maxes out @ $10.00. If the Santa Fe is full there is the Main Street Garage on Main and E.K. Gaylord (same pricing as the Santa Fe) this is two blocks south of the hotel.
Questions?
For more information contact Molly O'Connor, cultural development director, at (405) 521-2013 or molly.oconnor@arts.ok.gov.