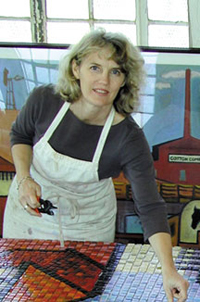 Contact Information:
Susan Morrison
1921 N.W. 17th
Oklahoma City, OK 73106
Phone:
(405) 232.5083 (day)
(405) 802-1183 (evening)

Email:
Website:
http://smorrison652.wixsite.com/susanmorrison
Discipline:
Visual art ? Painting, drawing, collage
Participants:
Elementary, Middle School, High School, Adults
Settings:
Schools: Elementary, Middle Schools, High Schools, Alternative Education
Community Sites: Parks & Recreation Centers, Art centers, Libraries
Availability:
Central Oklahoma, Tulsa Area, SW Oklahoma
Year-round
Bio:
Susan Morrison, well-known for her impressive "History of Bricktown" murals at Bricktown Ballpark in Oklahoma City, holds a Fine Arts Diploma from the Museum School of fine Arts in Boston and a BFA from Tufts University where she received traveling fellowships to study art abroad. She has been a working artist for the past 25 years exhibiting extensively in Boston, New York and Oklahoma City. She brings to the classroom valuable experience as a professional artist and a great enthusiasm for painting and collage. In her residencies, students enjoy learning color, composition and design through painting, drawing and collage. They learn how to create form with light and shadow through simple still-life painting with emphasis on direct observation. In collage residencies, students are encouraged to explore and manipulate varied materials often centered around a theme.
Learning Goals:

Explore formal elements of painting and drawing through the still life
Build visual vocabulary by working with various materials and textures in collage
Learn to be creative within formal guidelines
Learn to use pencil and paint in a traditional way
Develop a lasting enthusiasm and appreciation for art
Exercise problem solving and decision making through art