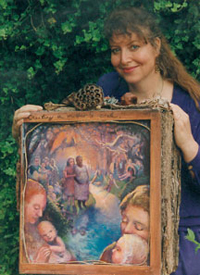 Contact Information:
Sheryl Cozad

Phone:
(405) 360-0087 (evening)
(405) 651-1594 (day)
Email:
Website:
Discipline:
Visual Arts
Participants:
Early Childhood, Elementary, Middle School, Hight School, Adults, Educators, Older Adults, Youth with Disabilities, Adults with Disabilities, At-risk Youth
Settings:
Schools: Pre-k, Elementary, Middle School, High School, Alternative Education
Community Sites: Parks & Recreation Centers, Arts Centers, Childcare Centers, Libraries, Senior Centers, Health Care Facilities
Availability:
Statewide, year-round
Bio:
Sheryl Cozad's portraits, imaginative paintings, and illustrations have found homes across the U.S., Canada, and Great Britain. Originally trained as an art historian, Sheryl received a Master of Fine Arts in Design and Painting from the University of Oklahoma. She has taught art history and studio classes on the college level for almost two decades in addition to teaching children's programs and working with older adults since 1987. Teaching others to draw and paint people, birds, and animals in a variety of media constitutes only part of the lessons. Art technique, vocabulary and history are shared in an enjoyable atmosphere where students' ideas flourish and are valued.
Learning Goals:

Facilitate comfortable experimentation in making art
Increase art vocabulary such as value, hue, saturation, etc.
Introduce drawing and design techniques
Gain experience in painting techniques
Facilitate community and intergenerational interaction through visual art