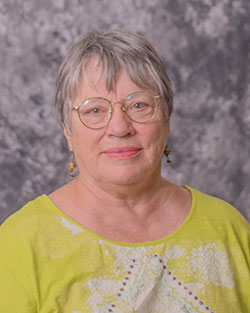 Contact Information:
Sandra D. Williams
3905 East 92nd St
Perkins, OK 74059
Phone:
(405) 547-1142 (evening)
(405) 612-6814 (day)
Email:
Discipline:
Theatre Arts
Participants:
Childhood, early Childhood, Adolescents, Adults, youth at risk and those with special needs
Settings:
Schools: pre-k, elementary, middle, high, special ed, alternative ed
Community Sites: art centers, community theatres, parks, senior and recreation centers
Availability:
Tulsa and OKC metros and Central OK; Feb. 1 - Nov. 1, summers, weekdays and weekends
Bio:
Performing in kindergarten and directing neighborhood plays in the fourth grade, Sandra (pronounced Sondra) followed her artistic impulse through a PhD in Theatre. She began her Artist-in-Residence tenure with the Oklahoma Arts Council in 1985, directing plays and teaching workshops in Oklahoma's community theatres. School residencies started with At-Risk Youth, "by accident ? I owed the set designer a favor and took his alternative ed classes for a day. I loved it! I've been working in schools, and especially with alternative schools, for over ten years now. Performing in front of peers, friends and families, and open audiences takes people of all ages to a higher sense of accomplishment and capability." We work from physical non-verbal games and improvisation to verbal interaction and then to scripts, depending on the time and the desired learning outcomes. Theatre is fun, and always, it builds skills and self-esteem. Even shy people shine.
Learning Goals:

Learn basic theatre and performance skills, including how to look good and look confident, what to do with your hands, how to stand and sit, and what makes an effective physical and verbal presentation
Develop stage presence: Learn to speak and act before a group with concentration, focus and self-control

Stimulate creativity and have plenty of opportunity to communicate creatively
Build collaborative and teamwork skills through games, rehearsals and performances
Develop discipline and a sense of responsibility through theatrical work
Learn to build a story, write scenes and scripts, and create the characters that play in them
For music students and musical comedy performers -- How to sell a song