KC Clifford & David Broyles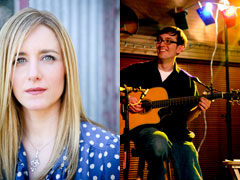 Contact Information:
KC Clifford
P.O. Box 60512
Oklahoma City, OK 73146
Phone:
(405) 210-1852

Email:
kcclifford@kcclifford.com
doctorpants@doctorpants.com
Website:
www.kcclifford.com
www.doctorpants.com
Discipline:
Music
Participants:
Children, Adolescents, Adult
Settings:
Elementary, Middle School, High School, Alternative Education, Parks & Recreation Centers, Arts Centers, Libraries
Availability:
Statewide, year-round
Bio:
K.C. Clifford is an award-winning Oklahoma songwriter and the product of a diverse musical background. The daughter of a bluegrass picker, Clifford's academic pursuits include studies in Opera Performance at the prestigious Indiana University School of Music as well as a Bachelor of Music degree in Commercial Voice Performance from Nashville's own Belmont University. In her 14 years as a professional musician, Clifford has
co-written a #1 hit single, had multiple songs recorded by others, and worked as a studio singer on numerous projects. This nationally touring recording artist is known for her passion for the craft of songwriting. A natural born communicator, Clifford desires to share her love of the song with today's Oklahoma students in hopes to inspire the songwriters of tomorrow.
David Broyles has been writing and recording his own music since age 16. An accomplished guitarist and multi-instrumentalist, David received his Bachelor of Fine Arts Degree in Contemporary Music Performance from the College of Santa Fe in New Mexico. As the son of college professors, Broyles was raised with a high regard for education. His teaching experience includes six years as an adjunct guitar instructor at Oklahoma City Community College, two years teaching music theory in Santa Fe, and seven years of private guitar lessons out of his home studio. In his long career, Broyles has composed over 400 pieces of music and released three independent CD's, ranging in style from rock to classical, from hip-hop to the avant-garde experimental.
Learning Goals:

Students will learn about the components processes of music composition.
Students will explore elements of music and songwriting including: creative inspiration, melody, rhythm, harmonic progression, lyric wilting, and form/arrangement.
Students will use the content covered to compose their own songs.
This program helps to reinforce: math through rhythm, language arts through lyric writing, and social studies and science through learned observation and critical thinking.