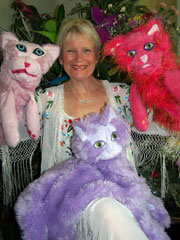 Contact Information:
Joann McMillan
Rt 5, Box 210
Eufaula, OK 74432
Phone:
(918) 707-3000

Email:
Website:
Discipline:
Puppetry and Creative Dramatics
Participants:
Early Childhood, Elementary, Middle School, Hight School, Adults, Educators, Older Adults, Youth with Disabilities, Adults with Disabilities
Settings:
Schools: Pre-k, Elementary, Middle School, High School, Alternative Education
Community Sites: Parks & Recreation Centers, Arts Centers, Childcare Centers, Libraries, Senior Centers, Health Care Facilities
Availability:
Statewide; year-round
Bio:
Joann McMillian was inspired to begin her 20 year-career as a professional puppeteer as a little girl in her own backyard that she transformed into a marionette theater. A graduate of the University of Delaware, her residencies may involve students in puppet or mask construction, creation and development of characters, story and script writing, puppet show production as well as theater games/movement and acting skits. Each residency is geared to the students' developmental level and is open enough to include a wide range of possibilities based on the sites' curriculum needs.
Learning Goals:

Learn history and types of puppets
Learn puppet making from kindergarten simple to high school complex
Learn the basics of movement and non-verbal communication
Learn story writing, character development and scriptwriting
Develop performance skills of acting, blocking and public speaking
Experience basic areas of stagecraft