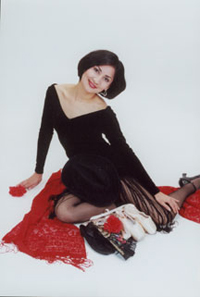 Contact Information:
Hazel Lopez
5616 NW 83rd Street
Oklahoma City, OK 73132
Phone:
(405) 831-9752
(405) 748-0082

Email:
Website:
Discipline:
Dance
Participants:
Early Childhood, Elementary, Middle School, Hight School, Adults, Educators, Older Adults, Youth with Disabilities, Adults with Disabilities, At-risk Youth
Language fluency: Spanish
Settings:
Schools: Pre-k, Elementary, Middle School, High School, Alternative Education
Community Sites: Parks & Recreation Centers, Arts Centers, Childcare Centers, Libraries, Senior Centers, Health Care Facilities
Availability:
NW Oklahoma, SW Oklahoma, SE Oklahoma, Summer
Bio:
Hazel Lopez-Crutcher has taught and performed in the dance industry for over 20 years. She received a BA in fine Arts from the National Academy of Arts in Guatemala in 1981. She has performed ballet throughout Central America, the United States and Europe as a member of professional companies including the Guatemala Ballet Company and the London Hite Ballet Company in Los Angeles. She offers instruction in ballet, jazz, tap, creative movement, modern dance, flamenco, salsa and Argentine Tango. Her residencies enrich students and give them a greater appreciation of cultural diversity by teaching them the technique, musical rhythms and history for each dance style.
Learning Goals:

Discover Hispanic dances, music, costumes and traditions
Learn dance terminology
Develop sequencing and pattern skills through dance