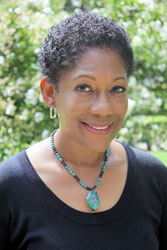 Contact Information:
Gwendolyn Hooks

Phone:
(405) 672-6085

Email:
Discipline:
Creative Writing
Participants:
Early childhood, childhood, adolescents, intergenerational, adult, older adult, youth at risk
Settings:
Schools: pre-k, elementary, middle schools, alt-ed
Community Sites: parks & recreation centers, arts centers, libraries, senior centers
Availability:
Statewide, year-round
Bio:
Gwendolyn Hooks is a published author with eleven books for children, both fiction and nonfiction. She earned a B.S. in Secondary Education-Mathematics from the University of Missouri St. Louis. Hooks taught middle school math until she realized her passion for creative writing. Now she writes, teaches writing, and presents writing and inspirational programs to students, teachers, librarians and parents.
Hooks teaches pre-school through middle school students, and enjoys teaching writing to adult audiences. Using her own nonfiction books as examples Hooks explores the parts of a nonfiction book and leads students through the process of writing their own nonfiction.
Learning Goals:

Students will learn keys to the creative writing process.
Students will explore character development, believable dialogue, setting, and plot progression.
Students will explore nonfiction books and learn the process of nonfiction writing.
Students will write their own compositions.
Sessions will include inspirational Author Talk and tips on how to add "sparkle" to one's writing.
Workshops can be modified to meet the specific needs of a class such as curriculum alignment.