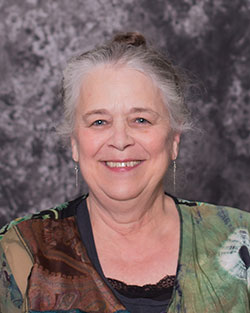 Contact Information:
Glenna McBride

Phone:
(918) 617-1689

Email:
Website:
Discipline:
Visual art
Participants:
Early Childhood, Elementary, Middle School, Hight School, Adults, Educators, Older Adults, Youth with Disabilities, Adults with Disabilities, At-risk Youth
Settings:
Schools: Pre-k, Elementary, Middle School, High School, Alternative Education
Community Sites: Parks & Recreation Centers, Arts Centers, Childcare Centers, Libraries, Senior Centers, Health Care Facilities
Availability:
Statewide; year-round
Bio:
Glenna McBride is a regionally known fine art printmaker and the owner of River Oaks Studio in Eufaula. At her studio, classes are held and studio tours are available. It is here she created several public installation works such as hand-printed and quilted wall hangings; stenciled handmade paper and hand-bound books.
McBride earned a Bachelor of Fine Art with an emphasis in Printmaking and Bachelor of Science in Art Education. She maintains current certification with the Oklahoma State Department of Education to teach art, K-12. Other professional affiliations include being a Teaching Artist with the Arkansas Arts Council and a member of Women Printmakers of Austin. She is also affiliated with the Oklahoma Department of Libraries, Summer Reading Programs. During literacy programs, McBride facilitates interest in reading through hands on printmaking projects. Successful programs such as "Tremendous Transformations in Time" have been presented. This is a brief workshop explaining the contributions printmaking has made to the evolution of modern thought.
Learning Goals:

Create artwork through drawing, painting, printmaking, papermaking and/or book arts
Increase student knowledge of Art Pass Skills
Create a sense of craftsmanship and accomplishment with students and teachers
Assist with portfolio development
Support teachers in arts integration of core curriculum when asked