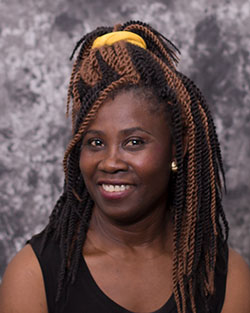 Contact Information:
Dora Obuobisa
1813 Regency Blvd
Moore, OK 73160
Phone:
(405) 790-0215

Email:
Discipline:
Traditional Arts/Visual Arts - African
Participants:
Childhood, Adolescents, Adults and Elders
Settings:
Elementary schools, libraries, parks and recreation centers
Availability:
OKC metro; year-round
Bio:
Dora Obuobisa is an inspiring artist with unique talents in leatherwork, batik, tie and dye, and traditional African crafts. She holds a bachelor's degree in painting, a postgraduate diploma and masters degree in art education from the University of Science and Technology in Ghana. Dora was a lecturer at the University College of Education in Ghana and also has over 12 years experience in teaching at the elementary and secondary levels. A recent immigrant, she has worked as an art instructor in a number of Oklahoma City Public Schools. A residency with Dora enables participants to unearth talents in design and creativity, and to gain an appreciation and understanding of diversified art forms.
Learning Goals:

Experience innovative use of different art media
Learn to appreciate art from different cultures
Learn skills in designing, developing and creating traditional art
Develop self-expression and experience a sense of achievement through art