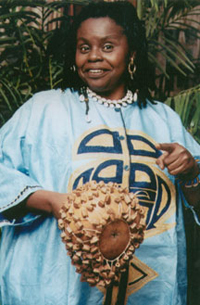 Contact Information:
DWe Williams
2609 NW 38th St..
Oklahoma City, OK 73112
Phone:
(405) 942-0810
Email:
Discipline:
Theatre Arts/Storytelling
Participants:
Early Childhood, Childhood, Adolescents, Adults, those with special needs and youth at risk
Settings:
Schools: pre-k, elementary, middle, high, special ed, alternative ed
Community Sites: art centers, libraries, parks, senior and recreation centers
Availability:
Statewide, Year-round
Bio:
Dwe Williams, a noted dramatist, has a Bachelor in Speech and Theatre Education from North Carolina A&T State University. She also has a Master in Creative Drama and Children's Theatre from Southern Illinois University. She has training and experience in Core Knowledge, Great Expectations and arts integration, and has worked as production manager and director for the Classen School of Advanced Studies in Oklahoma City. During her residencies, Dwe uses storytelling and drama as a primary tool to enhance arts integration while students create and participate in storytelling and learn the value of this oral tradition in society. Songs, movement and visual art projects may also be used to enrich the learning process.
Learning Goals:

Demonstrate the use of storytelling and creative drama to enhance curriculum
Develop respect, appreciation and understanding of storytelling
Explore storytelling techniques
Increase listening skills
Expand ability to see other points of view
Develop cultural understanding through stories