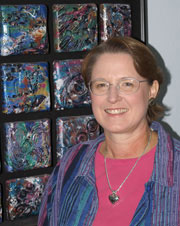 Contact Information:
Cheryl Swanson

Phone:
(405) 974-0872
Email:
Discipline:
Visual Arts, Drawing, Painting, Mixed Media, Sculpture
Participants:
Elementary, Middle School, Hight School, Adults, Older Adults, At-risk Youth
Settings:
Schools: Elementary, Middle School, Alternative Education
Community Sites: Parks & Recreation Centers, Arts Centers, Libraries, Senior Centers
Availability:
NW Oklahoma, Year-round
Bio:
Cheryl Swanson has inspired students of all ages to create art. She makes art fun. She used her energy and passion to help students believe in themselves and to believe that they have something to say through their art.
Swanson graduated with a BFA from Phillips University. She has worked as a visual art instructor in public schools for over 25 years, created a community summer arts program, taught adult art workshops, worked with At Risk teens, as well as serving as the founding creative director for Enid's art and science children's center, Leonardo's.
In 2002, Swanson received the Teacher of the Year award from her school district. In 2004, she received the Governor's Arts and Education Award. In 2006, she completed an Artists as Educators workshop which focuses on blending art into the core curriculum.
Learning Goals:

Swanson's main passion is to assist students in becoming life long "lovers" of art. She wants them to be able to unlock the creativity within themselves. Everything can be a learning experience. She offers a wide range of visual art instruction depending on the resources available at the individual sites.
Through a residency with Cheryl:
Students will develop a working understanding of basic art terms including the principles and elements of design.
Students will produce a tangible work of art through drawing, painting, weaving, found object relief sculpture and/or murals.
Students will work on problem solving skills.
Students will reflect on how to celebrate differences through art and discover when we work together, great things can be accomplished.
Cheryl is also available to assist teachers in blending art into their core curriculum. Her latest group mural was created because of group of elementary teachers wanted their cafeteria to also be a place of learning. Together, they created a visual art mural that provides answers to lessons from each grade level.