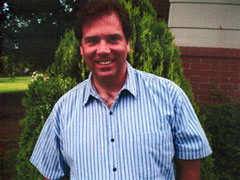 Contact Information:
Bill Miller
723 Ute Ave.
Stillwater, OK 74075
Phone:
(405) 714-5255 (day)
(405) 624-0239 (evening)

Email:
Website:
Discipline:
Visual Arts
Participants:
Early Childhood, Childhood, Adolescents, Youth at Risk, Adults, Older Adults and those with special needs.
Settings:
Schools: Pre-K, Elementary, Middle, High and Alternative Ed
Community Sites: Art Centers, Libraries, Senior Centers, Parks and Recreation Centers
Availability:
Central Oklahoma, OKC Metro and Tulsa Metro; year-round
Bio:
Bill Miller is a graduate of the High School of Music & Art in New York City in 1983. He earned a bachelors degree in Studio Art/Arts Management at Herbert H. Lehman College in 1988. After college, Miller created his own business selling hand painted shirts and handcrafted jewelry. In 1992, he moved to Oklahoma and received his Masters from Oklahoma State University in 1995. Miller began teaching emotionally disturbed children in Cushing, Oklahoma in 1999. In 2002, he began teaching Special education in Stillwater and is now an adjunct professor at Northern Oklahoma College in Stillwater teaching Art Appreciation & Modern Western Culture. He is a board member of The Stillwater Art Guild and has several paintings and murals on display in local businesses and homes.
Learning Goals:

I feel I am qualified to teach about many different aspects relating to the arts such as:
How to paint murals from start to finish
How to paint a picture, such as a still life in oils, acrylic, or watercolor or in any paint they have available)
How to understand art, look at a picture and think about it and talk about it using visual art terms such as still life, composition, picture plane, perspective (one and two point).
I also feel that since the arts have been part of the core curriculum in Oklahoma, students need to have more interaction with real artists. In this way, I feel students will be able to do well on the benchmarks set forth by the PASS skills. I can help students understand and use the principles of design: rhythm, balance, contrast, movement, variety, the center of interest. They will be able to identify these things in the works of famous paintings as well as there own art. Along the same line they will have a better understanding of the elements of art. Some of the elements I can talk about are line, color, form, shape, texture, value (lights and darks) and others. I can demonstrate what tools the artist (different brushes, differences in paints, different papers, pencils, pastels, chalks, fixatives, etc) uses and how to stretch their own canvases.