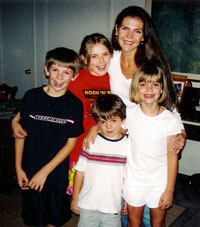 Contact Information:
Beth Robinson

Phone:
(405) 760-7878
Email:
Discipline:
Creative Writing: academic writing, non-fiction and biography
Participants:
Childhood, Adolescents, Adults, Elders, Youth at Risk and those with special needs
Settings:
Schools: elementary, middle, high, special ed, alternative ed
Community Sites: art centers, libraries, parks, recreation centers and senior centers
Availability:
Statewide, Year-round
Bio:
Robinson is an award-winning published author, editor, and poet. She holds a B.A. in Journalism/Professional Writing and a M.A in English/Creative Writing. She teaches English at Oklahoma City University. Her inspiring residencies nurture and encourage participants to contact and express their own creativity.
Learning Goals:

Learn and practice different academic and creative writing skills
Communicate internal and sensory experience
Appreciate various forms of writing
Receive and provide useful feedback to/from group.
Write, share, and enjoy poetry.