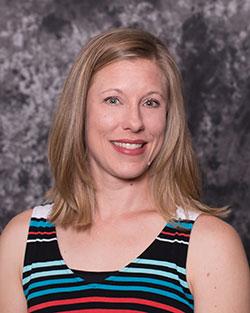 Contact Information:
Amy Nevius

Phone:
(405) 206-3293

Email:
Discipline:
Dance & Creative Movement
Participants:
Early Childhood, Elementary, Middle School, Hight School, Adults, Educators, Older Adults, Youth with Disabilities, Adults with Disabilities, At-risk Youth
Settings:
Schools: Pre-k, Elementary, Middle School, High School, Alternative Education
Community Sites: Parks & Recreation Centers, Arts Centers, Childcare Centers, Libraries, Senior Centers, Health Care Facilities
Availability:
Statewide, Year-round
Bio:
Amy Nevius is a versatile and innovative teacher, dancer and choreographer. She has studied, taught, and performed a variety of dance genres including ballet, tap, jazz, modern, aerial dance, and creative movement. She holds a B.A. in Dance Education from the University of Central Oklahoma and has attended several workshops and seminars regarding "Multiple Intelligences" and "Reaching Kinesthetic Learners Through Dance and Core Curriculum." Both technical and creative aspects of her professional training have allowed her the flexibility in developing a diverse teaching style that may be adapted for all learning environments. Her residencies impact students by allowing them to learn kinesthetically and to express themselves as unique individuals through the creation of original movement. Nevius enjoys teaching populations of all ages and skill levels and finds great reward in inspiring others through the art of dance.
Learning Goals:

Through guided creative movement activities, students will learn dance fundamentals and explore the elements of body, energy, space and time to create and perform original dance compositions.
Students will recognize dance as an art form and use movement as a tool to express an idea or feeling.
Students will understand that dance can improve one's strength, flexibility, balance, and coordination.
Students will demonstrate respect for movements created and/or performed by their peers.
Students will gain a working knowledge of terminology specific to basic elements of dance, such as:

Learning to identify and execute locomotor and non-locomotor movements.
Incorporating the use of different levels (low, medium, and high) for movement.
Comparing and contrasting different qualities (Heavy/Light, Quick/Slow, Direct/Indirect) of movement.