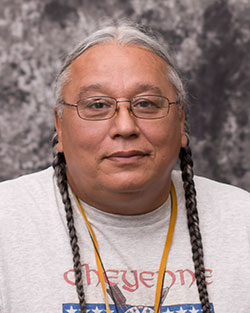 Contact Information:
Albert Gray Eagle
731 SW 52nd Street
Oklahoma City, OK 73109
Phone:
(405) 445-8423

Email:
Discipline:
Traditional Arts: Musical Arts and Storytelling
Participants:
Children, Adolescents, Youth at risk, Adults, Elders and those with special needs
Language Fluency: Cheyenne, Lakota and Apache
Settings:
Schools: middle, special ed, alternative ed
Community Sites: art centers, libraries, parks, senior and recreation centers
Availability:
Statewide, year-round
Bio:
Albert Gray Eagle is a noted flute artist and performer who is skilled in the craft of making traditional flutes along with regional forms of creative writing. Residencies with Gray Eagle may include the art of flute making and playing of the instrument while building on an understanding of history relevant to the Native American. He may provide storytelling for both children and adults that offer a perspective and philosophy of Native American culture of the past and present. Through his artistic talents and gentle nature for teaching, participants will be guided to develop their creative and artistic selves. As a U.S. Army veteran, Gray Eagle performs frequently for veterans events.
Learning Goals:

Learn to make a flute from natural materials
Develop imagination and craftsmanship
Explore cultural heritage
Learn patience and respect for others
Learn to work together as a team