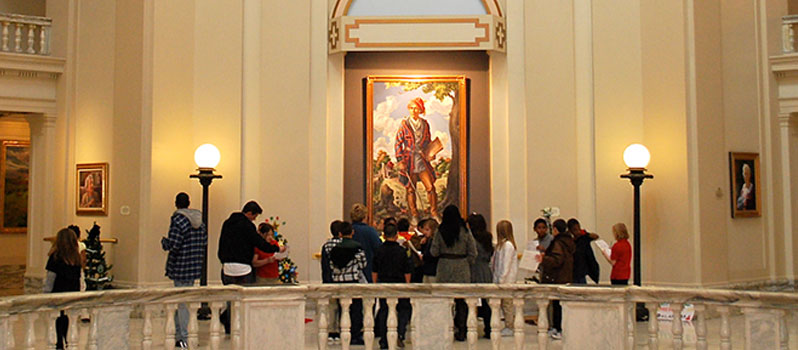 Capitol Art Travel Subsidies
NOTE: THE CAPITOL ART TRAVEL SUBSIDIES PROGRAM IS CURRENTLY INACTIVE DUE TO BUDGET CUTS.
Schools throughout Oklahoma can give students a unique experience in Oklahoma art and history through the Capitol Art Travel Subsidy program. The program provides reimbursement to schools statewide for eligible costs associated with travel to and from the Capitol.
Oklahoma's Capitol is unique among state capitol buildings for the amount of artwork adorning its halls and rotunda, and beautifying its grounds. The art at the Capitol provides an opportunity for students to learn about Oklahoma art and history through the permanent sculptures, murals and paintings of the Capitol Art Collection that tell the story of Oklahoma.
Visits can also include tours of the Capitol's four art galleries showcasing works by Oklahoma artists, past and present, including works from the State Art Collection exhibited in the Betty Price Gallery.
A Capitol Art Field Trip Guide with lessons, worksheets and discussion topics is available and can be downloaded for use in conjunction with the program. Teachers can request a DVD for use in the classroom prior to their visit. The DVD, titled, The People's Art: A Tour of the Capitol Collection is an award-winning episode of OETA's Gallery series hosted by former judge, Robert Henry, president of Oklahoma City University and supporter of the arts.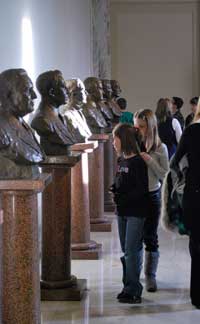 Guidelines
Schools must apply at least 30 days prior to the planned trip.

Only public schools are eligible.

Funding will be based on bus transportation costs only.

Special authorization is required from the Oklahoma Arts Council for charter bus rental.

Payments are made on a reimbursement basis.

After travel, a brief online report must be filed to generate the reimbursement.

An expenditure report from the administrative office must accompany the final report.

Individual school sites are eligible for a maximum of one award per fiscal year.

Due to limited funding, subsidies are awarded on a first come, first served basis. Funding priority may be given to rural and underserved schools.

Recipients are required to supplement their field trip by using the Capitol Art Field Trip Guide.

To Apply
NOTE: THE CAPITOL ART TRAVEL SUBSIDIES PROGRAM IS CURRENTLY INACTIVE DUE TO BUDGET CUTS
Contact our Arts Education Director. Explain that you're interested in a Capitol Art Travel Subsidy.

After talking to our Curator of Education and Capitol Galleries, click here to request a login for our e-Grant system.

Once you've received your login and passwords for the e-Grant system, complete the brief online application.

After your travel subsidy has been approved you can visit the Capitol on the agreed upon date.

Following your trip complete a brief final report by logging in to the e-Grant system. After we receive your final report you can expect to receive reimbursement for eligible expenses in two to six weeks.
Questions?
Contact our Arts Education Director.