Whitetail Deer in Choctaw Country
by Ross Myers
Oil
Commissioned by the Oklahoma State Senate Historical Preservation Fund, Inc.
Dimensions: 60 x 96
Dedicated 2003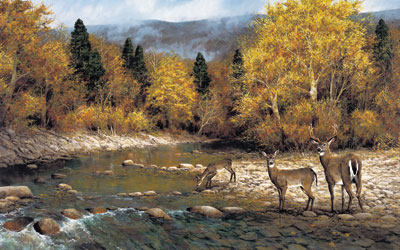 The Artwork
The Whitetail Deer is named for its most distinctive feature, the large white tail or "flat" that is often all you see as the animal bounds away through tall grass. In the early 1900s, as few as 500 whitetails roamed the state. By 1944, Oklahoma wildlife officials initiated a deer relocation program and today, the herd stands strong at 475,000 deer. Whitetail Deer are now Oklahoma's most abundant large game animal and record statewide deer harvests are an annual occurrence and are legal game in all 77 counties.

Choctaw Country, the region highlighted in this painting, was created by the Indian Removal Act of 1830, which set aside over 6 million acres in the southeast part of Indian Territory for the Choctaw Indians. In the early 1830s, over 14,000 Choctaws moved to the area. Now referred to as Kiamichi Country, the region is truly a sports enthusiast's paradise - from the hunting areas to the variety of magnificent lakes and streams.
The Artist
Ross Myers is in a life-long pursuit of art. Starting his professional career at age 15, he has demonstrated a natural talent in bringing life to a canvas. His paintings are a reflection of his personal experiences. With oil as his medium and landscapes as his subject, Ross delivers to his viewers a feeling of passion and inspiration.

Native to Oklahoma, Ross Myers graduated with a Bachelor of Fine Arts from the University of Tulsa in 1977. Having owned his own school for 25 years, he now continues to teach in the private sector at Ziegler's Art & Frame in Tulsa. Myers is best known for his expansive landscapes of the southwestern United States and his native Oklahoma.

Known nationally, Myers' paintings can be found in many private collections and corporate institutions. His work has been featured at galleries and museums in Colorado, Arizona, Texas and Oklahoma. Currently, his work is being shown at the Edmund Craig Gallery in Fort Worth, Texas, and at the Toh-Atin Gallery in Durango, Colorado. Ziegler's Gallery in Tulsa also shows a nice selection.

Ross Myers is an artist with vision. His passion for natural beauty is clearly evident in his expansive and painterly landscapes.