Indian Blanket Quilt
by Nettie Wallace
Cotton
Commissioned by Dr. Doyle McCoy
Dimensions: 87 x 75
Dedicated December 8, 1986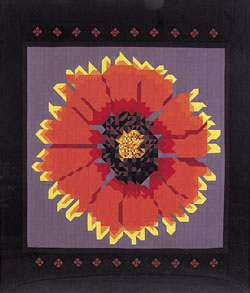 The Artwork
In 1986, Nettie Wallace was commissioned to create a quilt depicting the Oklahoma state wildflower Gaillardia pulchella, known as the Indian Blanket. Senator Billie Floyd from Ada, Representative Enoch Kelly Haney from Seminole, and wildflower expert Dr. Doyle McCoy commissioned the large quilt. The Indian Blanket was adopted as Oklahoma's state wildflower according to House Bill 1649 during the 1986 Legislative session.

Presented to Oklahoma by Governor George Nigh on December 8, 1986, the Indian Blanket Quilt symbolizes Oklahoman's most beloved flower while illustrating the intricate detailing required for exceptional quilt assembly. Wallace utilized a sewing machine to combine the three thousand pieces that compose the central blossom. The outer design is a Seminole patchwork representation of the pumpkin blossom, which was hand sewn. This remarkable quilt was Wallace's original design and took only three months to complete.
The Artist
Nettie R. Wallace has dedicated herself to the betterment of youth within the state of Oklahoma and Kansas. In 1988, after completing her Bachelor of Science from Kansas State University, Wallace received her counseling certificate from East Central University in Ada. She has worked as an occupational coordinator for students who are disabled at Hissom Memorial Center in Sand Springs as well as taught home economics at various schools throughout the states of Oklahoma and Kansas. Wallace has served as an invaluable cohesive member of her community by conducting workshops such as Parental Involvement in Education and Guiding Young Children. She was voted Konawa Teacher of the Year resulting in the honor of being an Oklahoma State Teacher of the Year Nominee.