Governor Mary Fallin, 2011-2019
by Paul Moore
Bronze
Commissioned by the State Capitol Preservation Commission
Dimensions: 25 height
January 12, 2015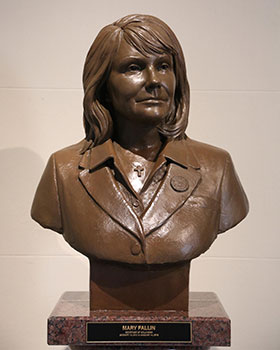 The Artwork
Mary Fallin was born December 9, 1954 in Warrensburg, Missouri. She was raised in the town of Tecumseh, Oklahoma, where her mother and father both served terms as mayor. She graduated from Tecumseh High School. She attended Oklahoma Baptist University before graduating from Oklahoma State University in 1977. From 1990 to 1994, Fallin served as a member of the Oklahoma House of Representatives. From 1995 to 2007, Fallin served as the Lieutenant Governor of Oklahoma. She was the first woman and the first Republican to hold the office. From 2007 until 2011, she served as U.S. Representative for Oklahoma's 5th congressional district. She is the second woman elected to represent Oklahoma in the United States Congress. The first, Alice Robertson, was elected in 1920. Since 2011, Fallin has served as the 27th Governor of the state of Oklahoma. She is the first woman to hold the office.

The Artist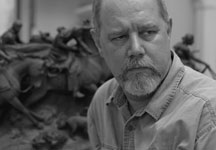 Paul Moore is a native Oklahoman who has gained national and international recognition with his sculpture. He was born in Oklahoma City in 1957 and is a member of the Creek (Muscogee) Nation, Sweet Potato Clan. Paul Moore is a Fellow and Board Member of the National Sculpture Society and a member of the Cowboy Artists of America. He is in constant demand for portrait and monumental commissions. He is also the Artist in Residence and Professor of Figurative Sculpture at the University of Oklahoma, Norman, OK.

Moore has sculpted more than 110 commissions for numerous municipal, corporate, private and international collections. His work is in the US Capital Collection and the Smithsonian's National Portrait Gallery in Washington, D.C. and in 2008 his portrait of Dr. Thomas Rees, one of the three founding members of the Flying Doctors of East Africa, was unveiled at their main headquarters in Nairobi, Kenya, Africa. The same year his sculpture "Coming of Age" was placed in the Brookgreen Gardens permanent collection at Pawleys Island, SC.