Ralph Ellison
by Tracey Harris
Oil on linen
The Ralph Ellison Portrait Committee Chairs: The Honorable David Holt, The Honorable Robert Henry, and Kevin Perry
Dimensions: 40 x 30
March 6, 2014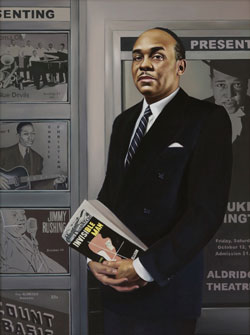 The Artwork
Ralph Waldo Ellison was born in Oklahoma City in 1913 or 1914. He was raised in the Deep Deuce area of Oklahoma City and graduated from Frederick A. Douglass High School.

Ellison's early inspirations were musical, and upon graduation from Douglass he enrolled at the Tuskegee Institute to study music. Before completing his studies, he relocated to New York City, where he embarked on what would become one of the most celebrated careers in American literature.

His masterpiece, Invisible Man, was published in 1952 and won the National Book Award in 1953. Today, it routinely appears on lists of the greatest American novels.

Ellison went on to write essays and reviews as well as teach. Two books of his essays were published during his lifetime - Shadow and Act and Going to the Territory. Posthumously, Ellison's literary executor John F. Callahan has edited books of essays, letters, and two versions of Ellison's never-completed second novel – Juneteenth and Three Days Before the Shooting.

Among Ellison's honors were the Presidential Medal of Freedom (1986) and the National Medal of Arts (1985). Ellison passed away in 1994 and is interred in New York City.


The Artist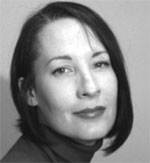 Artist Tracey Harris is a contemporary realist whose work has been exhibited nationally and internationally. Her work is included in several nationwide private collections.

Harris grew up in Fort Gibson, Oklahoma, then received a scholarship to study at the Kansas City Art Institute. After she received her bachelor's degree, she moved to London where she earned her master's degree in the visual arts from Goldsmith's College of the University of London.