A Place to Cross
by Rick Fry
Oil on linen
Gift of the City of Norman. Commissioned by Representative Bill Nations
Dimensions: 36 x 48
April 6, 2011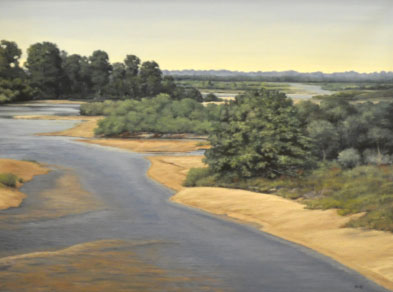 The Artwork
Depicting the South Canadian River and the Cross Timbers ecosystem in the mid-nineteenth century, A Place to Cross represents a geographic location near present day Norman, Oklahoma.

The Cross Timbers ecosystem is a band of hardwood forest interspersed with area of savannas and glades that run from southeastern Kansas through eastern Oklahoma into north central Texas. The forest is dominated by post oak and blackjack oak with populations of eastern red cedar, shumard oak, black oak, black hickory, ash, and numerous other species. The Cross Timbers represent a boundary between the great forests of eastern North America and the southern Great Plains. Prior to European settlement, the forest covered more than 30,000 square miles.


The Artist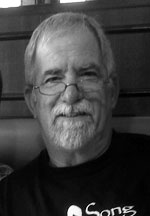 Rick Fry is an accomplished illustrator and painter who found his artistic niche with an eclectic collection of techniques and subject matter that provides a refreshing view of America's untamed areas.

Born in Shawnee, and based in Norman since 1980, Fry has an affinity for prairies, trees, and rolling hills, especially the open hills of southwest Oklahoma. Armed with the belief that a wildlife and landscape painter must observe first and foremost, Fry favors painting "en plein air" or outside in the open air. His goal for each painting is to capture the essence of his subject. When working in the field, he paints almost exclusively with oils on panel because of the broad range of techniques this media offers gives him the best opportunity to achieve his goal.

Fry exhibits his work regularly throughout the Southwest. In 2009, he was the Celebrated Artist at Norman's Annual May Fair Arts Festival. As a recipient of numerous Best in Show and First Place awards for his oil paintings, Fry's work has been exhibited in Japan, Russia, and the United States including the Sam Noble Museum of Natural History at the University of Oklahoma. His illustrations have been published in the Oklahoma Almanac and the Bird Observer of Eastern Massachusetts.

Fry has studied with Plein Air Painters of America, John Budicon, Jean LeGassick, Joseph Mendiz, and Ron Rencher.