Mickey Mantle
by Kenneth Wyatt
Oil
Sponsored by the Office of the Governor, Oklahoma State Senate, Oklahoma House of Representatives, Oklahoma Arts Council, State Capitol Preservation Commission, and Mr. Joe Warren
Dimensions: 72 x 48
May 28, 1997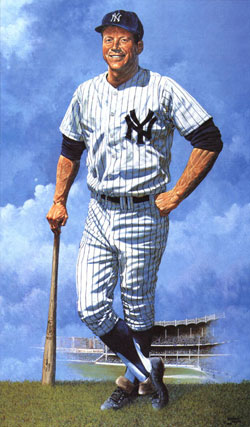 The Artwork
Born in Spavinaw, Oklahoma on October 20, 1931, Mickey Charles Mantle grew up in Commerce, Oklahoma, where his father worked as a lead and zinc miner. His father instilled in him a love of sports, particularly baseball. On April 17, 1951, Mantle donned the New York Yankee uniform of the first time and began a career that would become baseball history. That same year in Commerce, Mickey Mantle married Merilyn Johnson, and together they would have four sons.

His 18-year history in Major League Baseball offered him 12 World Series appearances. In fact, Mantle holds the records for the most home runs (18), runs scored (42), runs batted in (40), and walks (43) in the World Series.

Mantle was was voted Athlete of the Year in 1956, and also was recognized with the American League's Most Valuable Player honors in 1956, 1957, and 1962.

Mantle's career highlights included selection as the Most Popular Yankee of All Time in 1968, induction into the Baseball Hall of Fame in 1974, and the dedication of the Mantle Monument at Stadium in memory of the legend in 1996. In addition to his baseball honors in 1964, he was added to the Oklahoma Hall of Fame.

Mickey Mantle may have lived elsewhere over the course of his life, but he never forgot his roots. Longtime friend, Joe Warren remarked, "Mickey would always say 'I may live in Dallas, but I am definitely an Okie!"
The Artist
Dr. Kenneth Wyatt built an international reputation with his paintings of lonesome cowboys and biblical figures. His has painting career has lasted decades and includes more than 8,000 paintings.

Dr. Wyatt is a founder of the Texas Cowboy Artists Association and served as its first president. His art is in the collections of Queen Elizabeth II, Carol Burnett, the late-President Ronald Reagan, as well as in the executive offices of large corporations and numerous private collections.