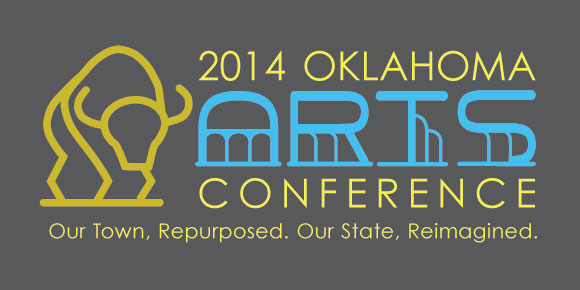 Oklahoma Arts Conference
Conference Schedule

NOTE: Check back for updates! Additional sessions and events will be added.


Tuesday, October 21
Preconference
12:00 p.m. to 7:00 p.m.
Registration Open
MAINSITE Contemporary Art Gallery
122 E. Main St.
1:00 p.m. to 3:00 p.m.
Forum on Arts Education in Oklahoma
Fred Jones Jr.  Museum of Art
Led by Jeff Poulin, Arts Education Program Coordinator for Americans for the Arts, this forum will equip participants with a clear understanding of the current arts education ecosystem.  Poulin will discuss effective strategies for navigating the complex ecosystem and the role of key players in creating a sequential, standards-based arts education as part of a quality education for all Oklahoma students. A panel of Oklahoma arts education representatives will address three major trends in arts education: Arts Education Standards, STEAM education, and Creative Youth Development. Time will be allotted to explore tactics for collectively moving Oklahoma Arts Education forward.
Panelists include:  Dr. Brad Benson, Director of Fine Arts for Norman Public Schools; Ken Busby, CEO and Executive Director of Tulsa Arts &Humanities Council; Tonya Kilburn, Artistic Director of Prairie Dance Theatre; Naisha Morris, Teaching Artist for Prairie Dance Theatre; and Elizabeth Ressel, Director of FAME Academy in Comanche, Oklahoma.
Who is encouraged to attend: Oklahoma's arts educators*, teaching artists, higher education professionals, community and arts education professionals and stakeholders.
There is no charge to attend this forum, and conference registration is not required for this particular event.  To RSVP for the forum, email Molly O'Connor: molly.oconnor@arts.ok.gov.
*Educators who attend the forum will earn a Workshop Verification Certificate with a value of two points.
1:00 p.m. to 3:15 p.m.
Norman Public Arts Tour Led by Members of the Norman Public Arts Board
(RSVP Required)
Explore the exciting public art in Norman! Join us for a two-hour bus tour of central Norman and see the support of public art in Norman. The bus tour includes viewing 40 pieces of sculpture, three murals, 15 artist-designed bicycle racks, a contemporary street-art-enhanced skate park, multiple Samo Ducky park sculptures, and walking tours of the main campus of the University of Oklahoma and the Firehouse Art Center. You will experience art created by local and regional artists, community art projects, and works by internationally recognized artists.   Bus transportation provided. This tour will depart from the MAINSITE Contemporary Gallery at 1:00 p.m. It is recommended that participants arrive by 12:45 p.m. to check in. Participants must RSVP, and availability is limited.
3:30 p.m. to 4:30 p.m.
Guided Tours of the Fred Jones Jr. Museum of Art
(RSVP Required)
Housed on the campus of the University of Oklahoma, the Fred Jones Jr. Museum of Art's world-class art collection of over 17,000 works includes objects from ancient societies to the contemporary art world. Led by museum docents, the tours will highlight the museum's permanent collection and temporary exhibitions. Guests must RSVP for the tours which will depart from the front (west) entrance of the museum.  Tours will depart between 3:30 p.m. and 3:45 p.m.
3:30 p.m. to 5:30 p.m.
Downtown Norman Artist Studio Tour
(RSVP required)
Downtown Norman is home to several studio spaces for professional artists. Get a sneak peek into the spaces where the artistic process flourishes as concepts become reality. This is a walking tour, therefore guests are encouraged to wear good walking shoes and dress in accordance with the weather. Participants must RSVP and availability is limited.
6:00 p.m. to 9:00 p.m.
Welcome to Norman Reception at MAINSITE Contemporary Art: Home of the Norman Arts Council and Downtown Art Walk 
122 E. Main St.
Spend Tuesday evening strolling through lively and vibrant downtown Norman. Gather with your friends at MAINSITE Contemporary Art Gallery to enjoy a reception offering food, drink, and live entertainment. Guests can visit several galleries and creative spaces that will be open for the evening art walk. A map of the participating venues will be available at MAINSITE gallery. The evening will include live music performances by Mary Sallee, Jerry Neil Smith, and Jay Wilkinson. The evening will include live music performances by Mary Sallee, Jerry Neil Smith, and Jay Wilkinson.
Wednesday, October 22
7:00 a.m. to 5:00 p.m.
Registration Open
Embassy Suites Conference Center
2501 Conference Dr.
(The registration desk is located near the southwest entrance.)
8:30 a.m. to 9:30 a.m.
Good Morning, Norman, Oklahoma!
Kick-start the 2014 Oklahoma Arts Conference by gathering and networking with your fellow Oklahoma arts leaders. Led by your Norman conference hosts, this entertaining and lively morning program will help you make the most of your conference experience. 
9:45 a.m. to 11:15 a.m.
Making a Case for Arts Education 101
Presenter: Jeff M. Poulin, Americans for the Arts
Learn about the current snapshot of arts education in Oklahoma and across the country.  Case-making for arts education often requires navigating the complex ecosystem of arts education stakeholders, and understanding advocacy. Whoever you are - a program director, advocate, funder, artist, or educator - if you wish to strengthen advocacy efforts for arts education in Oklahoma, this session is for you.
9:45 a.m. to 11:15 a.m.
So, You Want to Start A Festival…
Panelists:  Ashley Adair-Garner, Douglas Elder Shaw, Jonathan Fowler, Norman Hammon, and Chuck Thompson
Moderated by Jennifer Baker
Establishing an arts-based festival in your community may be the perfect idea for bringing people together, fostering the local cultural heritage, and generating new revenue.  With proper planning, financial support, and attention to detail you can ensure that your event is sustainable. Known as the "City of Festivals," Norman continues to succeed with long-standing festivals such as Jazz in June and newer, emerging events like the Downtown Norman Fall Festival. Hear from Norman representatives about time-tested successful planning tactics and lessons learned from presenting large-scale community festivals.
9:45 a.m. to 11:15 a.m.
Make it Work: Public Art Master Planning 101
Presenters: Gail Goldman and Robbie Kienzle
(Part one of a two-part session) Learn about the essential elements of a public art master plan for your community. Find out how to gain a commitment from your local leaders to make it happen. Take away a framework that you can use to kick-start a public art master plan process. This is the first part of a two-part session designed for arts administrators and community leaders. Public Art Master Planning 101 will focus on when, where, and why your community may need a public art master plan, types of plans and which one is right for your community, and general guidelines on how to define community goals and develop the scope for a public art master plan. This session includes a discussion of methods for creating successful planning and implementation strategies.
9:45 a.m. to 11:15 a.m.
Greater than the Sum: The Art of Collaborative Practice
Presenter: Sean Starowitz
Collaborative practice is a democratic model in which all parts are created equal to make something greater than any one individual could do. Working collaboratively allows for greater perspective and insight and encourages teamwork skills, communication skills, and understanding of others. This discussion-based workshop will explore the beauty and success of collaborative arts-based partnerships. Starowitz will utilize Kansas City-based projects as models for successful artist-driven collaborative practice.
11:30 a.m. to 1:00 p.m.
General Session Luncheon
Keynote address: Richard Taylor, Dean of Weitzenhoffer Family College of Fine Arts
Performance by Nathan Brown, 2014 Oklahoma Poet Laureate
1:15 p.m. to 2:45 p.m.
It Takes a Village:  Discovering New Support through Crowdfunding
Panelists: Ashley Griffith, Beau Jennings, Deborah McAuliffe Senner
Whether you are an artist, a community leader or an arts manager, crowdfunding can help you reach new supporters and build awareness about valuable programs and causes.  Learn more about implementing effective crowdfunding strategies that will ensure your innovative ideas become realized.  Panelists will discuss Paseo F.E.A.S.T., Allied Art's Power to Give campaign, and the Verdigris Project. 
1:15 p.m. to 2:45 p.m.
Panelists: Shane Hampton, Angelo Lombardo, Richard McKown, Laura Reese, and Tim Stark
Moderated by Erinn Gavaghan
StART Something!: A Story of Collaborative Placemaking in Downtown Norman
Last Spring, a team of artists, arts managers and city leaders collaborated to transform an abandoned, downtown lumber yard into a temporary, community-based gallery, installation and performance space.  The StART Norman project incorporated concepts from Better Block and No Longer Empty, and it stimulated dialogue and greater understanding about the relationship humans have with their environment. Members of the StART Team will discuss their observations of and involvement and contributions to the project.  Learn more about how you can implement similar projects in your own community from StART to finish. 
1:15 p.m. to 2:45 p.m.
Poetry: The People's Art
Panelists: Nathan Brown, Claire Collins, Leon Donley, Kent Martin, and Shaun Perkins
More than ever, the art of poetry serves as a catalyst for community building and education. Pioneering poetry programs bring diverse people together, provide a forum for developing one's own voice and build awareness about social issues. Panelists will discuss some of Oklahoma's exemplary poetry programs such as Louder Than a Bomb, the Rural Oklahoma Museum of Poetry (R.O.M.P.) and Oklahoma's Poet Laureate Program.  Learn more about how poetry can be incorporated into your programming and how poetry can open new doors for community engagement.
1:15 p.m. to 2:45 p.m.
Program Evaluation & Outcome Measurement based on Best Practices
Presenter: Adrienne B. Elder
Does your organization need help implementing an evaluation? Do you have questions about where to begin?  In this training, after a quick review of the evaluation terms, we will walk through the steps to create your own logic model and survey tools.  Be prepared to bring your program information with you, so that your specific questions may be answered during small breakout sessions. Participants will learn how to use program evaluation to increase funding opportunities locally and nationally.
2:45 p.m. to 3:15 p.m.
Networking Break
3:15 to 4:45 p.m.
Make it Work: Public Art Master Planning 102
Presenters: Gail Goldman and Robbie Kienzle
(Part two of a two-part session) This is an interactive workshop in which participants will identify issues and priorities specific to their community, outline goals for a public art master plan, and create a strategy for getting political and financial support. Participants will break into small work groups based on population being served and receive individualized attention in developing a scope and fee structure tailored to the specific needs of their particular community.
3:15 p.m. to 4:45 p.m.
Socially Engaged Practices for Artists
Presenter: Sean Starowitz
Randy Kennedy acknowledges in his recent New York Times article, "Outside the Citadel," that practitioners [of socially-engaged art] freely blur the lines among object making, performance, community organizing, environmentalism and investigative journalism. Social practice grants artists the flexibility to flow within and around various practices and disciplines, forming collaborations on a greater scale, and creating cultural access points. Starowitz will highlight successful collaborative Kansas City-based projects such as BREAD!, KC, The Speak-easy, The Talk/Shop, the Drugstore and Lots of Love. The session will begin with a brief presentation, followed by an open discussion with participants.
3:15 p.m. to 4:45 p.m.
Making a Case for Arts Education 201
Presenter: Jeff M. Poulin, Americans for the Arts
(Part two of a two-part session) A more in-depth discussion on current trends in arts education - STEAM, standards, and creative youth development - this session is geared for those who are already actively engaged in arts education case-making. Poulin will lead participants in understanding collective impact models in relation to arts education, and together, the group will devise a collaborative action plan that will help increase statewide support for arts education. 
3:15 p.m. to 4:45 p.m.
Fundraising and Friend-raising
Presenter: Adrienne B. Elder
Does your organization struggle to meet the financial needs for your programs?  Do you feel overwhelmed with where to begin? In this session, we will break down the essential steps to fundraising and friend-raising among development staff and your board of directors. In the training, you will learn how to research best practices for your programs and how your programs are directly addressing the needs of your community.   Guidelines will be provided for writing exceptional proposals, researching new potential funding partners and meeting face to face with prospective donors.
5:00 p.m. to 7:00 p.m.
Opening Reception at the Fred Jones Jr. Museum of Art at the University of Oklahoma
555 Elm Ave.
Join your Norman community hosts and fellow conference attendees for an evening of good company, hors d'oeuvres, and music. Conference guests will have the opportunity to explore the world-class Fred Jones Jr. Museum of Art at the University of Oklahoma to view permanent collections and the special exhibition, "Macrocosm/Microcosm: Abstract Expressionism in the American Southwest." Located on the corner of Elm Street and Boyd Avenue, the FJJMA houses a permanent collection of 17,000 works of art, including paintings by notable French Impressionists, 20th century American painting and sculpture, contemporary and traditional Native American art and Asian art from the 16th century to present day. Bus transportation will be available to and from the Embassy Suites Conference Center, the opening reception, and campus corner restaurants.  
7:00 p.m.
Dinner on your own in Norman
(See the restaurant guide for a list of locally-owned and arts-supportive establishments.)
8:00 p.m. to 11:45 p.m. 
Café Kzany at the Norman Train Depot
200 South Jones Ave.
Thursday, October 23
7:00 a.m. to 5:00 p.m.
Registration Open
Embassy Suites Conference Center
2501 Conference Dr.
(The registration desk is located near the southwest entrance.)
7:00 a.m. to 9:30 a.m.
Networking Breakfast at the Embassy Suites Atrium (located on the north wing of the hotel)
Rise, shine and meet your fellow arts leaders for conversation, networking, and a hearty cooked-to-order breakfast. The breakfast is complimentary for all hotel guests. Conference attendees who are not staying at the hotel may purchase tickets for $12.95 plus tax at the front desk. 
8:00 a.m. to 9:30 a.m.
Executive Director Roundtable
Facilitators: Brenda Granger and Steve Liggett
New this year! This is the opportunity to convene with other executive directors from Oklahoma's arts organizations.  Time will be allotted for introductions and discussion of issues that we all face such as daily organizational challenges, working with a board, and developing sustainable community support. 
8:00 a.m. to 9:30 a.m.
Test Kitchen for Teaching Artists
Presenter: Jennifer Barron
Having effective evaluation tools in place is key when it comes to planning successful arts education programs. Geared toward teaching artists, this hands-on workshop will allow participants to analyze their current evaluation tactics and methods for outcome measurement. Teaching artists will work together to discuss and exchange inventive ideas for assessing arts learning goals. Special emphasis will be placed on equipping educators to collect the most relevant information for measuring learning and planning future programs.
9:45 a.m. to 11:15 a.m.
Advancing the Cause: Increasing Awareness and Support through Your Organization
Presenters: Shannon Beaver, Julia Kirt and Erin Shiobhan Smith
Garner new resources and awareness for your organization's work, confidently share the successes of your programs, and find new allies in your community. Sound like fundraising? Pretty close, we're talking about advocacy. Focusing on the similarities between effective fundraising and advocacy, we'll look at ways nonprofit organizations can communicate and advocate to grow arts-friendly policy and funding. Led by Oklahomans for the Arts director Julia Kirt and advocacy captains, this experiential session will let you learn, explore and practice your key messages.
9:45 a.m. to 11:15 a.m.
With the Help of Strangers and Friends!: Public Funding for the Arts in Norman
Panelists: Stephanie Brickman, Jud Foster, Anthony Francisco, Erinn Gavaghan, and Norman Hammon
Moderated by Larry Walker
Two unique funding sources for the arts have allowed the City of Norman to provide longstanding support for public art and local arts organizations. Panelists will discuss the Norman Transient Guest Room Tax and the donations through the City of Norman Utility Bills, which fund the Norman Public Art program. Learn from the panelists as they discuss the history and creation of these sources and share insight into the processes, results, and impacts for the stakeholders in their thriving arts community.
9:45 a.m. to 11:15 a.m.
The Artist's Role in Creative Placemaking
Presenter: Sean Starowitz
Creative placemaking animates public and private spaces, rejuvenates structures and streetscapes, improves local business viability and public safety, and brings diverse people together to celebrate, inspire, and be inspired. By engaging and involving community members and the public, private and non-profit sectors, artists can help strategically shape the physical and social character of a neighborhood, town, city, or region around arts and cultural activities. This interactive workshop will address various ideas and techniques for community collaboration for placemaking, including the roles of artists, cultural workers, and neighbors.
9:45 a.m. to 11:15 a.m.
Where fore ART thou, Inclusion?
Presenters: Doug MacMillan and Chandra Boyd
This session addresses the misconceptions and realities of disability. It provides participants with an understanding of disability awareness in the public, etiquette, venue expectations, accommodations and other concerns of individuals who have little or no experience working with people with disabilities. Common misconceptions about people with disabilities will be explored. Further, participants will gain insights into what to expect from people with disabilities. This training will provide a foundation for exploration of views on disabilities and prepares participants to create and implement inclusive techniques, policies, practices and share a vision about art is for everyone. You will learn more about how you can enable Oklahomans with disabilities to have full access to arts programs and facilities, and to encourage them to participate fully in the rich cultural and artistic life.
11:30 a.m. to 1:00 p.m.
General Session Luncheon
2014 Leadership Arts Graduation
1:15 p.m. to 2:45 p.m.
Mid-America Arts Alliance: More Art for More People
Presenter: Christine Bial
Based in the heartland, the Mid-America Arts Alliance (M-AAA) supports and stimulates cultural activity in communities throughout Arkansas, Kansas, Missouri, Nebraska, Oklahoma, and Texas. M-AAA creates and manages regional, multi-regional, national, and international programs including traveling exhibitions, performing arts touring, and professional and community development. Christine Bial, Mid-America's Director of Arts nd Humanities Grantmaking, will discuss the Alliance's services and programs and define how you can make these available to your community.
1:15 p.m. to 2:45 p.m.
Beat Procrastination and Self-Sabotage
Presenter: Romney Nesbitt
For artists, the self-defeating act of procrastination can be detrimental to one's artistic career.  Fear of failure (and success), issues regarding time, expectancy, and value play into your decision to procrastinate. During this session, we will focus on the root of procrastination and identify effective strategies to take control of your thoughts, time, and your creative life. 
1:15 p.m. to 2:45 p.m.
Working Together to Open Doors: How Collaboration Equates to Greater Success
Panelists: heather ahtone, Stacey Halfmoon, Tracey Satepauhoodle-Mikkanen, Tony Tiger, and Valorie Walters
Moderated by Susan Baley
Six Oklahoma institutions are coming together to create an exceptional opportunity for the state of Oklahoma in 2015 through an art exhibition, "Enter the Matrix: Indigenous Printmakers". Participating institutions form the University of Oklahoma are the Fred Jones Jr. Museum of Art and the School of Art & Art History and the Jacobson House as well as Bacone College, the Chickasaw Cultural Center, the Southern Plains Indian Museum and the American Indian Cultural Center & Museum. Through the creation of a unique collaborative project, these institutions will host internationally acclaimed artists for a 14-day residency in Oklahoma. Panelists will discuss how this project was initiated, how it will meet institutional goals and what benefits are expected for communities across Oklahoma.
1:15 p.m. to 2:45 p.m.
Our Town, Revitalized: The Oklahoma Cultural District Initiative
Panelists: Dr. Kay Decker, Ronald J. Frantz, Jr., Joshua Lunsford, Hope Mander, and Lucy Swanson
Moderated by Nathan Gunter
While still relatively new, the Oklahoma Arts Council's Cultural District Initiative offers funding, guidance and professional consultation and formal certification for cultural districts across Oklahoma.  Defined as mixed-use community spaces that offer a high concentration of arts and cultural facilities or activities, thriving cultural districts can be found in Oklahoma's rural and urban communities.  Ideally, a district reflects its community's unique architecture and history, showcases the region's artists and cultural traditions, and increases social engagement.  Panelists will discuss important steps in the development process, including conducting a cultural inventory, involving community stakeholders, and initiating redevelopment.
2:45 p.m. to 3:15 p.m.
Networking Break
3:15 p.m. to 4:45 p.m.
The Innovation Station Idea Exchange
Moderated by Lance McDaniel
The Innovation Station Idea Exchange provides a lively forum where artists, arts and community leaders, and others can present brief, two-minute descriptions of new works in process, ideas for new projects or artistic community-based collaborations. The Idea Exchange can be used as a "show and tell" for the innovative things happening in your community or studio, or can be an opportunity to talk about arts programs you've seen outside Oklahoma that you think should happen here. This session is an excellent opportunity for networking and developing new collaborations. Participants will have the option to sign up before the session to present their ideas - feel free to get creative with your presentation!
3:15 p.m. to 4:45 p.m.
Open Doors by Saying "No"
Presenter: Romney Nesbitt
Artists are frequently requested to lend or donate their services to various causes and projects.  While these opportunities can boost your artistic career, they have the capacity to detract from your energy and resources.  Saying "no" to a request for your time or talents may be the best way to advance your career goals. Learn when, why and how to say "no" in a positive way. This session will provide you with decision making tactics, allowing you to secure more time for your creative goals.
3:15 p.m. to 4:45 p.m.
Your Museum: More than Meets the Eye
Panelists: Alyson Atchison, Susan Baley, Stacy Cramer Moore, and Donna Merkt
Moderated by Brenda Granger
Now more than ever, museum collections are accompanied by interactive educational resources for youth and adults. Several Oklahoma museums offer dynamic educational tools for teaching social studies, history, science, creative writing, and more. These educational programs enhance the overall museum experience, develop new audiences, and increase the public value of the collection. This panel session will highlight some examples of museum education followed by a collaborative activity to help you start creating quality community engagement and learning experiences for your museum.
5:00 p.m. to 6:30 p.m.
The Paseo F.E.A.S.T. #9
Local, 2262 West Main Street
Why sit in rush hour traffic when you can end the conference on a high note, visiting with your peers and supporting some of Oklahoma's entrepreneurial artists? After the conference adjourns, make your way over to Local (2262 West Main, just two miles south of the Embassy Suites and Conference Center) to participate in the Paseo F.E.A.S.T. event.  F.E.A.S.T. (Funding Emerging Art with Sustainable Tactics) is a fun and lively community-driven, crowdfunding program sponsored by the Paseo Arts Association. Five artists from across Oklahoma will present their unique projects to the audience, who will then vote for their favorite artist.  Your $15 ticket, which can be purchased during the conference, will help fund the selected artist's project.   Hors d'oeuvres will be provided and a cash bar is available.  The presentations will begin at 5:45 p.m.
Questions?
For more information email us at conference@arts.ok.gov.