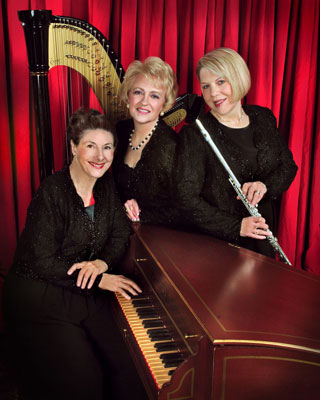 Booking Information:
Lillian M. McConnell
1623 S. Madison Ave.
Tulsa, OK 74120-6217
Phone:
(918) 812-0174
(918) 587-4574

Email:
Website:
Availability:
Year round

Fees:
Concert $2500
School informance $1750
Community Concert & School informance: $3000
Bio:
Oklahoma Centennial Recording Artists, the Rose Stone Trio, demonstrates versatility with a varied program of classical, jazz and popular music with harpsichord, harp and flute. These Oklahomans reflect their state's colorful resources with their casual elegance. From governor's events to the OK Mozart International Festival, the Rose Stone Trio presents a unique experience to audiences of all ages. Cited for giving a "stellar performance" at the Presidential Inaugural Ball in Washington, D. C. this trio brings creative insight and dynamic life to their music. The Trio builds rapport with audiences in their Salon Series, at Community Concerts, Informances for Children and Festivals.