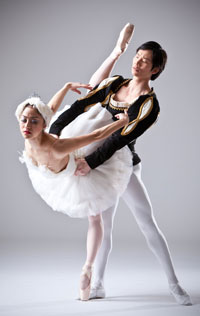 Booking Information:
Oklahoma City Ballet
7421 N. Classen
Oklahoma City, OK 73116
Phone:
(405) 843-9898

Email:
Website:
Availability:
Year round

Fees:
Mixed Repertory Performance: $8,000 - $10,000
Full Length Ballet: $10,000 - $20,000
Bio:
Founded by one of the famed Native American ballerinas of Oklahoma, Yvonne Chouteau, Oklahoma City Ballet has been Oklahoma City's professional ballet company for over 40 years. Its long standing history of producing high quality dance performances has garnered it attention as one of the finest regional ballet companies in America. Under the fresh vision of Artistic Director Robert Mills since 2008, the company has undergone an exciting transformation. With a reverence to the past, Oklahoma City Ballet has restaged classic works like Giselle, Les Sylphides and Paquita Grand Pas Classique, in addition to its annual presentation of The Nutcracker. It has added works from important choreographers of the 20th century including George Balanchine and Gerald Arpino, and focused on being a catalyst for creating new works by up and coming choreographers, including Amy Seiwert, Lee-Wei Chao, Helen Pickett, Jessica Lang, and Artistic Director Robert Mills. The company is also proud if its world premiere full length works The Wizard of Oz and The Phantom of the Opera, each set to a new commissioned score from composer Kermit Poling.