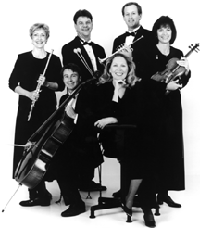 Booking Information:
Peggy Payne
PO Box 20178
Oklahoma City, OK 73156
Phone:
(405) 840-0278

Email:
Website:
Availability:
Selected dates throughout the concert season.
Fees:
Chamber Music Ensemble $2,500
Classical Jazz Concert $2,500
Young People's Workshop/Master Class $800
Bio:
Go for Baroque touches audiences with their music and a spirit of humor with informal narratives. All members are experienced educators and professional musicians. Their repertoire, tailored to meet community requests, spans from 17th century Baroque through 20th century world music. "Rt. 66: Go for Barbeque", "Riches to Rags", and "If it isn't Baroque, Don't Fix It" are examples of repertoire choices listed on their website. Educational activities explore listening and integrated curriculum and may include slides about period architecture, art, clothing, and diverse cultural traditions. Parthena Owens-flute; Densi Rushing-violin; Jim Shelley-cello/guitar; Steve Goforth-trumpet; Roger Owens-marimba/percussion; Peggy Payne-piano/harpischord.