Heather Clark Hilliard
Chromatopia: Color of Place
Governor's Gallery - July 13 - September 13, 2015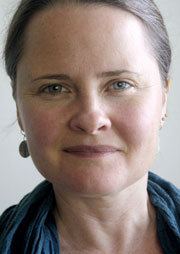 Heather Clark Hilliard is a multi-disciplinary artist with a focus on conceptual fiber creations. Her artwork merges time with place through site-specific installations and wall reliefs that are inspired by visual, auditory, and tactile experiences or sensory memories. "Our senses are intertwined with varying scales of time such as geological, familial, botanical, and mathematical, and they are each intrinsically connected to physical and ephemeral places that we inhabit," describes Hilliard.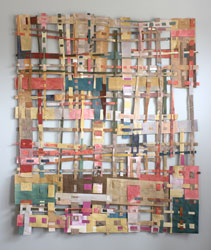 The colors in Hilliard's artwork are derived from plants and minerals that inherently define diverse ecosystems and unique terrains all over the world. Many natural colorants are found in leaves, roots, and flowers. While the extraction process is slow, it is an intentional process decision. Dyeing with plant materials is a way to map connective layers of time and place. To be a dyer means to visually, aromatically, and texturally engage with plants and their growing habits to honor the vitality these colors bring to our lives. In addition to mapping place, colors can transcend their physicality and shift into ephemeral and temporal spaces as well. Hilliard explains, "My work invites the viewer to become immersed in the passage of time while contemplating their physical and ephemeral sensory memories."
Chromatopia, meaning 'the color of place', is a series in which Hilliard expresses the intuitive and instinctual ways color and place map our lives. "The colors in Chromatopia vibrate across time and place because they are derived from plants that have been sustainably collected across the country," says Hilliard. "The colors are imprinted into the cloth, leaving serendipitous marks that map different places and ecosystems."
To produce the artwork in this exhibit, Hilliard used cotton fabric remnants from other projects in varying size and color and adhered them to large panels in layers. Each panel was then gently moved through a sewing machine with no thread to add textural and rhythmic punctures.
Finally, the panels were cut into strips of various widths and lengths. Hilliard explains, "By working on a wall, I weave strips into previously unplanned abstract compositions, focusing on the positive and negative spaces. These compositions remind me of latitude and longitude lines that are sourced from a disintegrating grid system. However, the structural integrity of the compositions is supported solely by the tension of the over-under-over formation of the hand weaving."
Hilliard was introduced to natural plant dyes on a sheep farm in Connecticut and has continued self-directed studies for 15 years with international master dyers from Canada to North Carolina.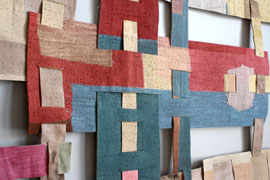 From 2012 to 2014, Hilliard received three Studio Assistant Awards to study at Penland School of Crafts. In addition to receiving Awards of Merit from curators of Concept/OK and FiberWorks, she was the inaugural artist-in-residence at 108 Contemporary in Tulsa in 2013. Hilliard's work has been exhibited in multiple national shows across ten states and four solo exhibitions. Her work has been published in Art Focus Magazine and Surface Design Journal. Hilliard works from her home studio in Norman, Oklahoma, or while on the road, traveling with her husband Ed and their dog, Butternut.