Freda de Odis Flatt
America the Beautiful
Governor's Gallery - September 21 - November 22, 2015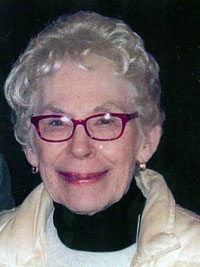 Freda de Odis Flatt received a master's degree in art education from East Central University in Ada, Oklahoma. She taught art in Byng Public Schools for 17 years before retiring early to dedicate her time to painting. Since 1990, Flatt has continued developing her painting technique by studying with numerous outstanding artists in workshops and studio classes. In addition, she has amassed a prolific portfolio of works collected by permanent institutions and built a résumé of projects that demonstrate her passion for painting.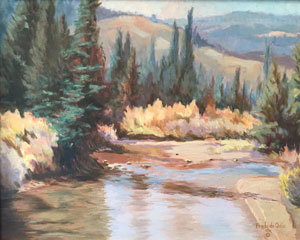 "I can't remember a time when I didn't want to paint," says Flatt. "I like to raise flowers and cook, but I can let them both go to paint. Becoming a good painter takes a tremendous amount of work and energy. But, I'm not afraid of work, and I have a lot of energy, so I find it easy to pour myself into an attempt to show a bit of God's creation."
In this exhibition, titled America the Beautiful, Flatt demonstrates her appreciation for the natural landscape of our country. Flatt often travels to practice her painting en plein air (a French expression meaning "in the open air") but is also just as productive working in her home studio in Sulphur, Oklahoma.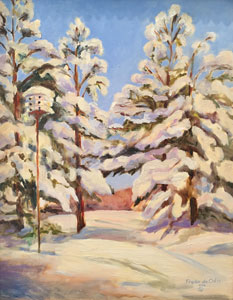 Flatt has frequently received "First Place" and "Best of Show" awards in juried art exhibitions in the Midwest, most recently at the Goddard Art Center in Ardmore, Oklahoma. She has received the purchase award six times in the four-state exhibition at the Forest Heritage Center in Broken Bow, Oklahoma, where those works remain on permanent display.
Flatt has completed several murals in school cafeterias as well as at the Pontotoc County Agri-Plex and the Chickasaw Nation. In addition, the Chickasaw Nation purchased three paintings for permanent display at the Chickasaw Council House Museum in Tishomingo, Oklahoma. The Choctaw County Library in Hugo, Oklahoma, recently purchased five paintings by Flatt to exhibit in their new library. In addition, Flatt's paintings hang in banks, national parks, and many private collections across the country. She has also illustrated a children's book titled The Hunter Who Was Not So Great.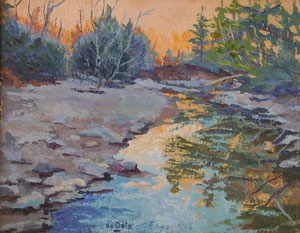 Currently, Flatt is working on a new mural at the Sulphur Veteran's Center and completing a second children's book. Her artwork is currently on display at the Great Plains Art Museum in Lincoln, Nebraska, as part of the American Plains Artists exhibition.

Flatt is a member of the Ada Artists' Association, Bartlesville Art Association, Outdoor Painter's Society of America, Oklahoma Lady Artists, and Oil Painters of America.