Jim Dodson, Jr.
Roots
Governor's Gallery - October 13 - December 14, 2014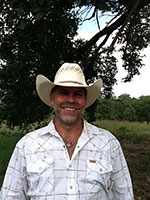 Born and raised in Ardmore, Oklahoma, Jim Dodson, Jr. is a master welder and sculptor whose artwork is influenced by his large extended family and the Chickasaw culture by which he is surrounded. In his latest body of work, titled Roots, Dodson has created assemblages of found objects originally used in early farming or re-appropriated vintage metal in combination with mixed materials related to or derived from the earth. The series is a collection of freestanding and wall-mounted metal sculpture. Each piece is balanced and inspired from the history of the long journey that gave birth to contemporary society. The wall-mounted sculptures from the series are featured in this exhibit.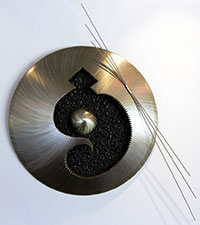 Dodson has spent the last decade pursuing his dream as a sculptor. He describes his work as "old world meets new world with a modernistic approach." Dodson's works are made by incorporating simple, geometric shapes and found objects that are natural and manmade. His choice of materials to incorporate into his work ranges from various mixed metals including many forms of mild steel, stainless steel, bronze, copper, and titanium to fossils and special stones.
Dodson begins his creative process by sketching out an architectural design, then searching for the best materials to represent his vision for the piece. His techniques for assembling and finishing the sculptures depend upon the materials involved but mostly involve mig and tig welding, brazing and silver-soldering, and applying a patina and urethane sealer. The finished sculptures range in size from small, table-top pieces to wall-mounted hangings to monumental free-standing pieces.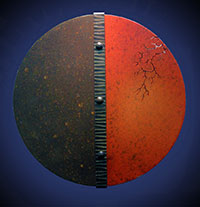 Of his artwork, Dodson says he pays careful attention to ensure craftsmanship of the dimensionality of the surface of his work. "Each piece is made up of layers with a precise balance between texture, warm color, and dimension," says the artist. "My portfolio also takes a form that challenges accepted ideas of what fine art should look like. It appears deceptively random, but the balanced composition is obviously intentional. There is a strange beauty in these objects, although they seem like they could have been made out of scraps from the garage. Often, a narrative arrives from the collection of disparate objects or a piece references ancient cultures."
Dodson's artwork has won several awards including the 2008 and 2011 Best of Show at Calgary Stampede Western Art Show in Calgary, Canada; the 2010 Best in Sculpture at the La Quinta Fine Arts Festival in Palm Springs, California; the 2009 Best in Sculpture at Art City Austin in Austin, Texas; and the 2010 People's Choice Award at the Whitefish Art Festival in Whitefish, Montana. Dodson's artwork is included in private and public collections all over the world, including Ardmore, Holland, Canada, and Qatar.