Larry Layton
Rocks, Trees, and Water
Governor's Gallery - September 16 - November 17, 2013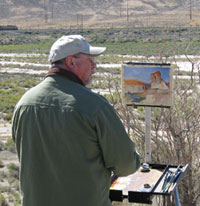 Larry Layton is an Oklahoma artist with a home and studio in Guthrie. He has been drawing and painting since his childhood. Growing up, Layton spent much time in the natural beauty of northwestern Arkansas, hunting, fishing, drawing, and painting. The young artist built his own easel and paint box for holding supplies and transformed a portion of his bedroom into a studio. Family vacations were an opportunity to draw and photograph the landscape. Determined to learn, Layton studied the lives and works of the master artists of Europe, Asia, and America, at times copying their pieces to learn their techniques. While still a young teen he was awarded a special scholarship to participate in live drawing sessions and studio work with adult artists in Fort Smith, Arkansas, and selected to exhibit in the Arkansas State Capitol. After high school, Layton earned a Bachelor of Fine Arts in Drawing and Painting from the University of Wyoming. He worked as an illustrator in Los Angeles and as a graphic artist in Wyoming. He also worked as a land surveyor, which kept him outdoors in the landscape.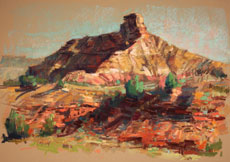 In 1990, a move to British Columbia, Canada, presented a whole new environment for Layton. Although he produced a good amount of work, he increasingly turned to his own photographs for reference material. "I almost stopped painting outdoors and became a photographer," says the artist. "Art became laborious and wasn't fun anymore."
A real change occurred in 2001, when Layton moved his family to Guthrie, Oklahoma. He soon became a regular member of Geatches Studio in Oklahoma City. The studio maintains the classic practice of painting directly from life, an approach that renewed the art spirit within Layton. Now he regularly paints landscapes outdoors, in addition to his studio work.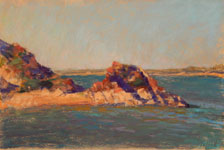 Of his art, Layton says, "I have been given a hungering desire to draw and paint combined with a deep awe and love of the natural world. My work is representational, but photographic rendering does not interest me. I work almost exclusively from life, whether the subject is still life, landscape, figure, or portrait. Working from life is challenging but a lot of fun. All things have an innate natural energy and rhythm, which for me, animates the world and stimulates my expression in visual art."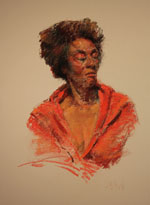 "An artist has to see differently, looking beyond the obvious," says Layton. He begins his work by trying to discern the gesture, the topography, or characteristic attitude of the subject. "I ask myself, 'What is this subject doing?' even if it is a landscape or still life. The gesture suggests to me the line, composition, and movement I want to convey in painting or drawing. The gesture is not only what a subject has, the gesture is the subject. My wife tells me I think and draw like a sculptor. That makes sense to me because I feel the contours of the subject in my mind. I prefer dry media, such as pastel or charcoal, because of the tactile sculptural feeling I get as the mark goes onto paper. I need to understand the form revealed in light and shadow before I can even begin a painting. Once I see and understand these things, I can start to draw or paint. The rest is just conveying the idea with paint or pencil until nothing more would add to the piece."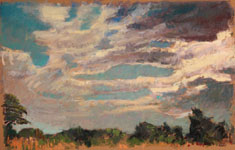 Layton has received numerous awards for his artwork in national and regional juried exhibitions. His art is included in private and corporate collections in the United States and Canada. He maintains memberships with the Oklahoma Art Guild, Oklahoma Pastel Society, Pastel Society of Colorado, and Geatches Studio in Oklahoma City. By continuing his education in art through workshops, Layton has studied with artists such as Zhang Wen Xin, Sherrie McGraw, and Lorenzo Chavez.