Tom Biggs
Landscapes and More
Governor's Gallery - June 14 ? August 8, 2010
Some of Tom Biggs' earliest memories are of his mother taking him to art shows. At a very young age, he developed an appreciation for the arts from these experiences. Later in life, a 35-year career as an oil and gas exploration executive afforded Biggs the opportunity for world travel. He was able to see works by the great masters of art in Europe, Asia, and Persia and became further fascinated with the arts as well as the world around him.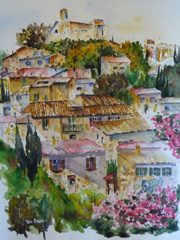 It wasn't until after retirement from his oil and gas career that Biggs began to fully focus on his artistic endeavors. Painting workshops and seminars as well as articles and books about technical aspects, styles, and techniques of watercolor helped him hone his craft. After retirement, painting became his daily routine.
Art has now become a second career for Biggs. He has been awarded "Best of Show" in exhibits in New Mexico and Oklahoma as well as numerous first place awards. His paintings were recently featured in solo exhibits at the Pride Gallery in Lawton, Oklahoma and the West End Gallery at the Kemp Art Center in Wichita Falls, Texas. The Museum of the Great Plains in Lawton also recently featured his work.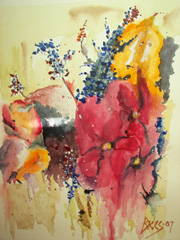 Although Biggs is accomplished in acrylics, oils, gouache, and pen and ink, watercolor is his medium of choice. "I particularly enjoy the luminosity and unpredictability of watercolors that cannot be matched with any other medium," says the artist. "My goal as an artist is to produce a finished product that is alive, thus creating feelings and drama. This is accomplished through the paints' fluidity with soft varying color washes that create interesting textures and edges.
I try to capture the essence of a subject?visualizing the elements and color that make it come to life."
The subject matter of Biggs' paintings is predominantly comprised of landscapes and urban scenes. The scenes are inspired by places he has visited as well as the Wichita Mountains which surround him as he resides in Medicine Park, a thriving arts community in southwest Oklahoma. "While these settings bring their own sense of magic and wonder, I strive as an artist to capture the peace and quiet of the moment and evoke the feelings and romance unique to each image," says the artist.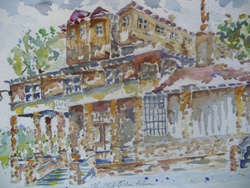 After growing up in Illinois, living in Dallas for more than 20 years, and then moving to Waurika to assist with his wife's parents' health, Biggs found Medicine Park on a pleasure visit. He immediately fell in love and knew he wanted to retire in the area. Two weeks after their first visit, he and his wife purchased a lot and built their current home. Biggs is an active participant in the Medicine Park arts community. He also conducts watercolor workshops for art associations and art centers in Oklahoma and Texas and teaches private lessons at his home studio.