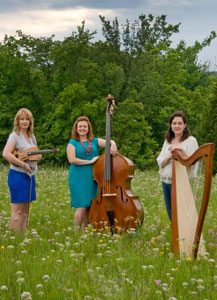 Booking Information:
Vintage Wildflowers
4136 S. Sandusky Ave.
Tulsa, OK 74135
Phone:
(918) 852-0299
Email:
Website:
Availability:
Year Round
Fees:
60 minute workshop: $150 -$300 (must be in conjunction with a performance)
45 minute school concert: $300
45 minute community concert: $300-$425
Full concert (two 45 minute sets with intermission): $600-$1000
Bio:
Abby Bozarth - fiddle, mandolin, guitar, harmony vocals
Dana Fitzgerald Maher - Celtic harp, harmony vocals
Audrey Schmidt - lead vocals, bass
Acclaimed for their instrumental prowess, onstage charm and soulful vocals, Vintage Wildflowers has developed an enthusiastic legion of fans with their vibrant blend of Celtic harp, Irish flute, fiddle and harmony vocals. Their music is a reflection of the musical lives and backgrounds of these three women, melding the trio's wide-ranging musical interests with their Celtic music obsession. With the release of their second CD Lovely Madness and their recent performances on the Millennium Stage at the Kennedy Center in Washington D.C. and on the WoodSongs Old-Time Radio Hour, they've earned national acclaim and a growing reputation for creating music that is respectful of tradition yet distinctly their own. Vintage Wildflowers music can be heard on radio stations from Alaska to the British Isles; they have been featured on NPR's Folk Salad, Folk Sampler, Celtic Connections and Funk Roots Radio. Hometown fans recently voted them Best of Tulsa Bands in a poll sponsored by Greater Tulsa Reporter newspapers.