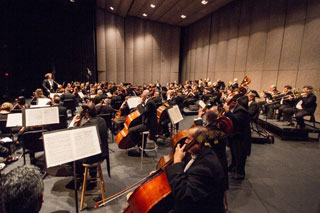 Booking Information:
Tim McFadden
Tulsa Symphony
117 N. Boston, Suite 201
Tulsa, OK 74103
Phone:
(918) 584-3645
Email:
Website:
Availability:
September through May
Fees:
Full Orchestra $14,000 - $30,000
Chamber Orchestra $10,000 - $14,000
Ensembles $1,200 - $4,000
Bio:
Founded in October 2005, the unique concept of the Tulsa Symphony Orchestra has gained national attention as a number of other professional orchestras search for a practical alternative to the traditional structure. The foundation of TSO is a business model for orchestral governance that involves musicians at every level of operation as artists in the concert hall, and Executive Musicians on the office staff and as active, contributing members of the Board of Directors and every functioning committee.
TSO is committed to serving the Tulsa community as productive citizens, artists, teachers, facilitators, innovators, musical ambassadors, and wherever our talents are needed. In addition to membership in the League of American Orchestras, TSO's artistic partners include the Tulsa Ballet, Tulsa Oratorio Chorus, Tulsa Opera, and Light Opera Oklahoma. TSO is equally committed to community alliances, which include the University of Tulsa, Oklahoma Jazz Hall of Fame, Oklahoma A+ Schools, Oklahoma Aquarium, Tulsa Air and Space Museum, Community Food Bank of Northeastern Oklahoma, Iron Gate, Big Brothers Big Sisters of Oklahoma, and the Tulsa Zoo.
Through exciting and meaningful Education and Community Outreach programs, TSO provides a wide range of musical and teaching experiences focused on building the audiences of tomorrow and encouraging the gifted young musicians of today. Our professional musicians are sought after to assist faith-based and other community organizations in meeting high standards of musical excellence.