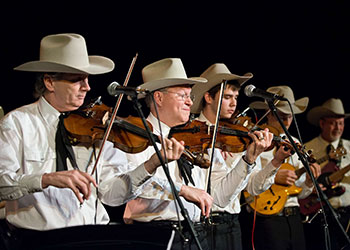 Booking Information:
Shelby Eicher
11 West 31st Street South
Sand Springs, Oklahoma
Phone:
(918) 798-9024
Email:
Website:
Availability:
Year round

Fees:
$1500 - $5000
Bio:
The Tulsa Playboys are a band of seasoned Western Swing musicians that epitomize the genre. The members of the band have worked with: Johnnie Lee Wills, Hank Thompson, Leon McAuliffe, Leon Rausch, Tommy Alsup, The Texas Playboys, John T. Wills, and Roy Clark.
Shelby Eicher has had the opportunity to record, gig, and make TV appearances with many legends including: Roy Clark, Hank Thompson, J. J. Cale, Leon McAuliffe, The Tractors and many more. Being band leader for the Tulsa Playboys is a high spot in his career. Eicher has been inducted into two Western Swing Hall of Fames and is a contemporary of the jazz violin scene.
Rick Morton plays fiddle with the Tulsa Playboys. He has recorded with The Tractors, winning a Grammy Award and a Gold record. Morton has been involved with fiddle education for years and serves on the board of directors for the National Fiddler Hall of Fame.
Steve Bagsby has been a professional musician in northeastern Oklahoma for 40 years. He considers playing for the Tulsa Playboys to be a high honor. Bagsby has performed with the Texas Playboys, Hank Thompson, Roy Clark and many more. Bagsby has been inducted into the Western Swing Hall of Fame and stays busy playing "Okie Style" dance music in the Tulsa area.
Danny McBride started hanging around and playing guitar with Merle Travis at age 18. When he was 20 he moved next door to Eldon Shamblin and had the opportunity to sit around talking and playing with the legend. McBride went on to play with Brooks and Dunn, Vern Gosdin, David Frizzell, and Razzy Bailey.
Jared Johnson is active as a drummer/percussionist performing and recording extensively with regionally and nationally known artists and has been a featured performer for the Oklahoma Jazz Hall of Fame. He is instructor of drumset for the Jazz Studies Program at Northeastern State University in Tahlequah, Oklahoma where he is an alumnus. Johnson is a member of the National Education Association, the National Association for Music Education and the Percussive Arts Society.
Steve Ham is the trombonist for the Tulsa Playboys, and the Texas Playboys. He has recorded with both groups. He also has his own band, Steve Ham's Jambalaya Jass Band. Known as "Hambone," he has been playing for money since 1974.
Mike Bennett, trumpeter, is a veteran of the Texas Playboys, Johnnie Lee Wills, John T. Wills, and now the Tulsa Playboys, recording with all four groups as well as the Tractors. In 2006, he was inducted into the Northwest Western Swing Music Society Hall of Fame. And, in 2012, he was inducted into the Southwest Western Swing Society Hall of Fame.
Rodney Lay plays bass and is the veteran of the group. He was Roy Clark's band leader for 20 years, making numerous TV appearances on "Hee Haw" and "The Tonight Show." Lay has performed with the Texas Playboys, Hank Thompson, and Chet Atkins, to name a few.
Spencer Sutton plays piano and is on the "A" list with many artists. He has performed and toured with Gus Hardin, the Texas Playboys, Barney Kessel, Hank Thompson, and Roy Clark.